DSAES News
July 21, 2022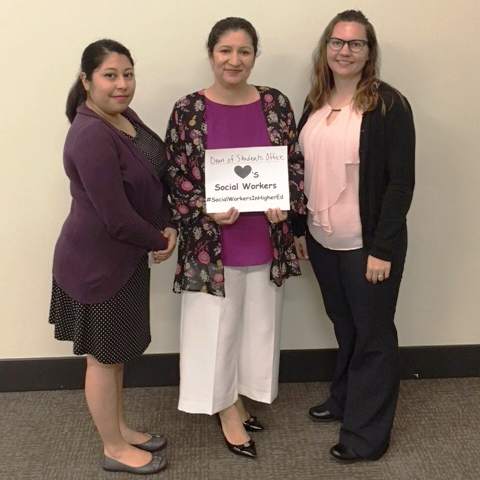 March 27, 2017
On Monday, March 27, 2017, seven departments from the Division of Student Affairs and Enrollment Services were represented during the Social Workers in Higher Education Luncheon at the University of Houston. In celebration of Social Work Month, the luncheon provided an opportunity for social work students, professionals and professionals with social work backgrounds to network and celebrate the profession. Departments in attendance included:
Dean of Students Office
Veterans Services
Justin Dart, Jr. Student Accessibility Center
Women and Gender Resource Center
UH Wellness
LGBTQ Resource Center and
Counseling and Psychological Services.
The first luncheon was held in 2015 with representatives from four division departments and has evolved to include a keynote speaker and networking opportunities for attendees. This year's keynote speaker was Dr. Amber Mollhagen, Assistant Dean for Admissions and Student Affairs in the Graduate College of Social Work. Dr. Mollhagen obtained her Master of Social Work and a doctorate in Educational Psychology and Individual Differences with an emphasis on Higher Education from the University of Houston. During her keynote, Dr. Mollhagen spoke about the intersection and impact of the social work and student affairs profession on student success.
"Social Workers and their unique and varied skillset contribute to student success by providing critical intervention, services and advocacy while also providing administrative and leadership to their departments and the division on behalf of students," stated Hope Pacheco, Case Manager from the Dean of Students Office and the creator of the luncheon. "I wanted to create an opportunity for my social work colleagues to network and celebrate our profession with our supervisors and provide an opportunity for our social work interns and GA's to contribute and connect with professional social workers. I'm a firm believer in the power of representation and mentoring and creating this space was important for me to continue to nurture and grow."
Attendees engaged in discussions ranging from self-care to advocacy, to professional development and support. Interns and graduate assistants were able to meet and share their student experiences, and supervisors engaged in conversations concerning the specific needs social workers face in higher education including the strengths and assets a social work professional brings to student affairs.
Based on the positive feedback and requests to gather more often than the annual March luncheon, Hope would like to host a few more opportunities for social work professionals within the division to network and discuss relevant topics and issues.
"I'm excited our social work interns and GA's are excited about this professional development opportunity and I'll be looking to them to help me lead the charge on this next level of "Social Workers in Higher Education," Hope remarked.
For more information about the Social Workers in Higher Education Luncheon, contact Hope Pacheco at hspachec@central.uh.edu.