DSAES News
July 21, 2022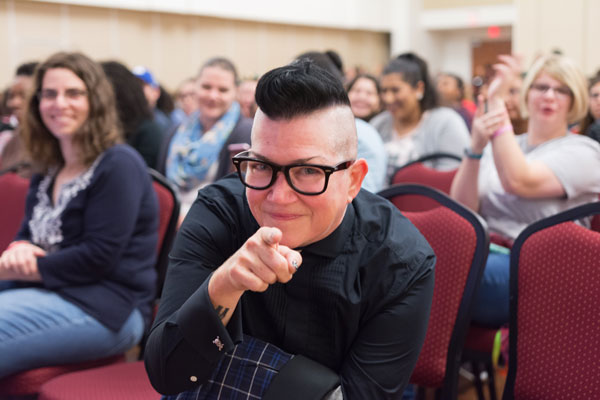 Over 400 people attended the Center for Diversity and Inclusion's (CDI) Fall Speaker Series featuring actress, comedian, and jazz musician Lea DeLaria on Monday, October 30, 2017. DeLaria spoke about the obstacles she has faced as the first openly gay comic and shared the message of unapologetically loving who you are and being comfortable in your skin.
"It was pretty amazing that we got to see someone so well known here on our campus," stated freshman Naomi Palo. "Her message that you are accepted the way you are: build, size, race, ethnicity, everything was powerful."
Known for her role as Big Boo on the Orange is the New Black, DeLaria encouraged the audience to stand up for others and causes that can make impact our society in positive ways.
One of the main takeaways of DeLaria's remarks for junior Rosaly Rosario was, "If we can get rid of nuisances and unite, we can fight for everyone. It was great; Lea was hilarious.  It was nice to take a break from doing homework and be able to laugh and relax."
The Center for Diversity and Inclusion's Fall Speaker Series is an opportunity for the department to host nationally recognized speakers who promote insight and knowledge on various topics that align with social justice.
"Having DeLaria on campus was very exciting for many of our students," stated Niya Blair, director of the Center for Diversity and Inclusion.  "We received many calls and emails from the campus community regarding their enthusiasm that Lea DeLaria was this year's speaker."
During the summer, the Center for Diversity and Inclusion staff researched nationally known speakers to consider for the Speaker Series. After narrowing down the list to five individuals, students had the opportunity to vote on who they wanted to see on campus.  After receiving over 150 votes, DeLaria's name rose to the top.
As a department, CDI is always looking for speakers who can discuss various elements of diversity and inclusion. If you would like to recommend a speaker for the Center to consider, please email uhcdi@uh.edu.
Learn more about programs sponsored by the Center for Diversity and Inclusion.