DSAES News
July 21, 2022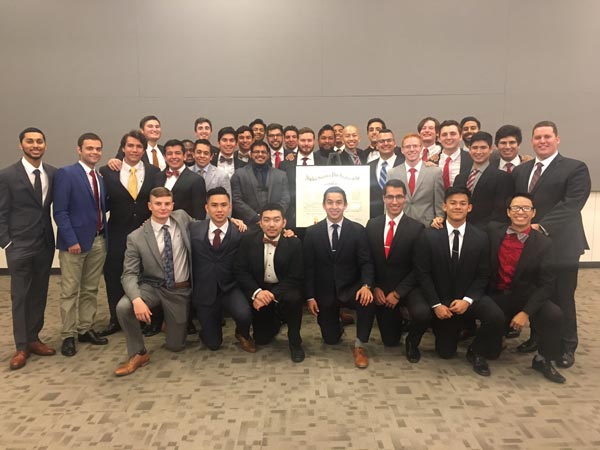 The Center for Fraternity & Sorority Life (CFSL) welcomed Alpha Sigma Phi Fraternity as the newest chartered fraternity to the University of Houston at the end of the spring semester. Alpha Sigma Phi Fraternity began at the University of Houston in the fall of 2015 and the group was officially colonized on November 11, 2015. The first initiation for Theta Delta took place in November 2015 when 36 men were welcomed into the Fraternity with the assistance of the Alpha Sigma Phi chapter at the University of Texas. The Provisional Chapter was approved to charter in March 2017 and the Chartering Ceremony was held in the Student Center Ballroom at the University of Houston on April 29, 2017. Grand Councilor Greg Kroencke, Illinois State '91 led the ceremony with assistance from Director of Chapter Development, Tabatha Sarco.
"We are so proud of the Theta Delta Chapter for reaching this milestone. Within the past year and a half, the chapter has made great strides, including being awarded recognition in Leadership Development through the Fraternal Excellence Program on campus as well as Adrian Hernandez being awarded Greek Man of the Year. This is just the beginning for these men, and we are looking forward to seeing all they will accomplish moving forward," Gordy Heminger, President and CEO, Alpha Sigma Phi Fraternity. The chapter will also take residence this fall at Bayou Oaks in a fraternity townhome.
Men interested in learning more about Alpha Sigma Phi may contact Chapter President, Isaiah Garcia.
About the Center for Fraternity & Sorority Life
The Center for Fraternity & Sorority Life was established at the University of Houston in 2010. Our mission is to enhance the fraternity/sorority member experience in order to elevate our Greek community Our vision is to provide a nationally-recognized, urban fraternity/sorority experience that serves as the primary vehicle for student success.