DSAES News
July 21, 2022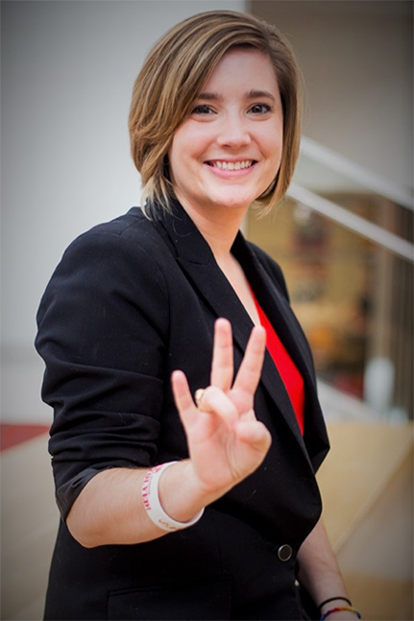 Jamie Gonzales
Program Coordinator
Jamie Gonzales joined the LGBTQ Resource Center in June 2016 as a Program Coordinator. The LGBTQ Resource Center strives to cultivate safe spaces on campus and within the Center, empower LGBTQIA students to develop their authentic identity, and offer educational resources and support to the campus constituents.
As a Program Coordinator, Jamie provides support through programming and outreach to increase student pride, engagement, and success. Jamie will oversee signature programs such as National Coming Out Day, LGBTQ History Month, Cougar Ally Training, LGBTQ Awareness workshops, and the new LGBTQ Resource Center leadership program. Jamie will also work closely with campus partners and student organizations to provide collaborative programming for the campus community.
Jamie graduated from the University of Houston with a Master of Education in Higher Education and holds a Bachelor of Arts in Government from The University of Texas at Austin. Prior to working at the LGBTQ Resource Center, Jamie served as the Graduate Assistant in the University of Houston's Center for Diversity and Inclusion where she co-developed and implemented a new student leadership program, organized and facilitated campus-wide diversity-related discussions, prepared and presented educational workshop material on inclusive language, and spearheaded Culture Connect Week 2016, a week-long series of events highlighting various aspects of diversity. She was also involved in the LGBTQ Resource Center as a mentor in the Peer Mentor Program, panelist on the Speakers Bureau, and participant in the UH Visibility Project. Jamie also served as the intern for Cub Camp during its inaugural year to develop and administer the assessment plan and oversee a team of volunteers.
Outside of the University of Houston, Jamie has served as the founding member of the Houston area Texas Exes LGBT Network, a co-chair for the Texas Exes LGBT Network and a member for Creating Change Conference's Youth Hospitality Committee.