DSAES News
July 21, 2022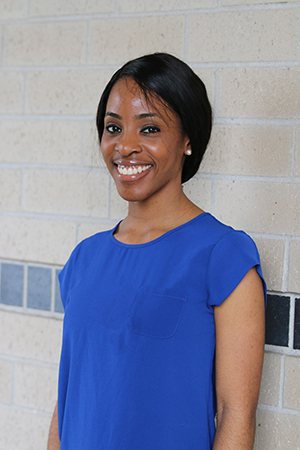 Kossy Mbah joined the Division of Student Affairs and Enrollment Services in the Department of Campus Recreation as the Reservations Coordinator on January 11, 2016.
In the new coordinator position, Mbah will manage reservation requests for the Campus Recreation and Wellness Center (CRWC) and recreation field space. She will be responsible for completing paperwork and communications regarding reservations. Mbah will also provide oversight for the management of events in the CRWC and will serve on the Campus Recreation Special Events Committee.
Mbah's past experience in restaurant management has prepared her for her new role with Campus Recreation. Having previously worked in the hospitality industry, she is equipped to deliver the highest customer service to the UH community.
Mbah is a University of Houston alumna, having earned her Bachelor of Science in Hospitality Management at the University of Houston Conrad N. Hilton College. While completing her undergraduate degree she was a member of Par Excellence and Hotel Management Society. She is currently a candidate for a Masters in Business Administration at Texas Woman's University and is considering pursuing a Ph.D in Hospitality Management.
Please join the Division of Student Affairs and Enrollment Services in welcoming Kossy Mbah to the University of Houston.