DSAES News
July 21, 2022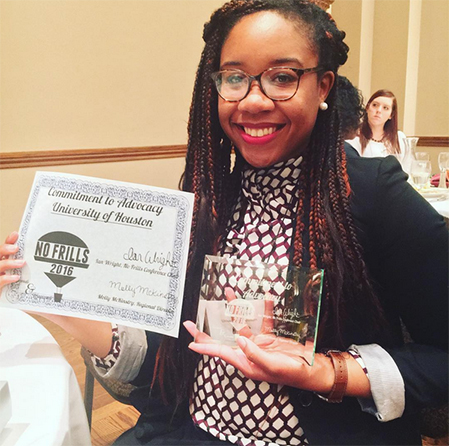 During the 2016 Southwest Affiliate of College and University Residence Halls (SWACURH) No Frills Business Conference for Residence Hall Student Leaders, members of the UH housing community were recognized for their growth and innovation. This conference creates opportunities for student leaders who work in the residence hall system to develop professionally, vote on legislation and share best practices throughout the region.
Highlights from the conference include:
The UH Residence Halls Association received the Commitment to Advocacy Award which recognizes a student initiated commitment to advocating for their residents.
The National Residence Hall Honorary (NRHH) received the Chapter of the Year Award, Building Block Chapter of the Year Award and seven regional "Of the Month" awards.
UH's current NRHH President, Laila Machado was elected to the Regional Board of Directors as the Associate Director of NRHH. This position is responsible for assisting affiliated NRHH Chapters in Texas, Arkansas, Louisiana, Oklahoma, and Mexico.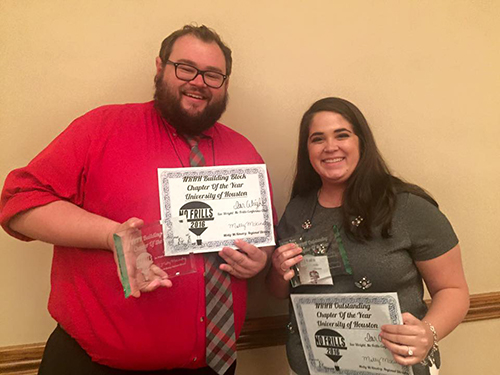 The students who attended the conference are as follows:
Laila Machado, NRHH President
Nancy Adindu, Resident Hall Association President
Zhanna Vanderschoot, National Communications Coordinator
Vishakha Mallya, Resident Hall Association Representative, Cougar Village I Hall Council
In addition, UH Student Housing and Residential Life staff were recognized at the Southwest Association of College and University Housing Officers (SWACUHO) Conference. Highlights from this conference include:
Maria Honey, Assistant Director, Marketing and Communications received the SWACUHO Bob Cooke Distinguished Service Award, which recognizes service, dedication, and significant contributions to student housing.
Jackie Stelmaszczyk, Residential Life Coordinator is the winner of the SWACUHO Nancy-Chadwick New Professional of Distinction Award that recognizes the outstanding work and impact of a new housing professional.
Shaniqua Johnson, Residence Life Coordinator, won the SWACUHO Case Study Competition Award, which focused the development of an action plan for how hall directors who are faced with racial tensions in residential halls can respond to and resolve issues. More information about Shaniqua Johnson's case study award can be found in the

 

SWACUHO Newsletter.
"All of our students and staff work hard in support of student success and service with an ethic of care, it is really nice to see them recognized for their efforts."

 
About the National Residence Hall Honorary
The National Residence Hall Honorary (NRHH) advocates for the interests and welfare of residence hall students, provides opportunities for their personal growth and development, and strives to provide recognition for individuals who have contributed to the advancement of university housing.  NRHH also promotes student growth through many service initiatives.
About the Southwest Association of College and University Housing Officers
The Southwest Association of College and University Housing Officers (SWACUHO) was chartered in 1966 and provides support to housing professionals from campuses across Arkansas, Oklahoma and Texas.