DSAES News
July 21, 2022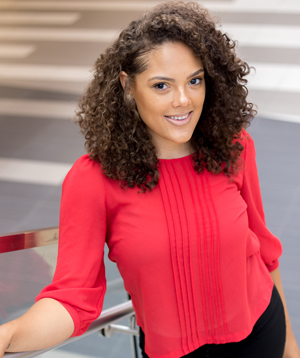 Adria Terry joined the Center for Diversity and Inclusion (CDI) as a Diversity Education Coordinator June 21, 2016. In this role, she will empower the UH community to learn about diversity, celebrate differences and foster inclusive environments. Through workshops, programmatic support and campus collaboration, Adria will empower the UH community to understand diversity outside of their lived experiences. A few signature programs she will oversee for the department are Weeks of Welcome Parent Reception, Inclusive Language Diversity Workshop, LGBTQ Awareness Workshop, RISE Diversity Certificate Program, and Diversity Institute. Adria will also work alongside campus partners and student organizations to provide collaborative programming for the campus community.
Adria earned her Master of Education in Higher Education Administration from Louisiana State University (LSU) and holds a Bachelor of Science in Community Leadership and Development from the University of Kentucky. Prior to her role with CDI, Adria served as the Graduate Assistant in the Office of Community-University Partnerships at Louisiana State University, and served as project manager for Literacy Lagniappe –a reading initiative pilot through the East Baton Rouge school system, to increase literacy rates amongst urban communities. She coordinated special projects and community outreach and events, including LSU's Sixth Grade Day –a journey to college initiative introducing inner-city students to college and college readiness. As editor for the Bengal Bottom Line newsletter, she was responsible for highlighting LSU's commitment to community service, diversity and outreach. In addition, Adria has experience in development with her ability to secure funding through foundational grant writing. She aimed to promote diversity and inclusion on LSU's campus by spearheading programs such as State of the Union: The Hispanic Student Perspective, organizing the SEC Multicultural Directors Conference, serving as the Black Male Leadership Initiative Graduate Intern and organizing events such as MLK Day of Service. She coordinated SPRINGFEST –LSU's largest recruitment weekend for minority students, and was responsible for creating the 2014-2015 Annual Diversity Report for LSU's Office of Diversity.
Outside of the University of Houston, Adria has served as the National Vice President for Minorities in Agriculture and Natural Resource related Sciences (MANRRS), servicing 78 chapters over 24 states, and serves as an active members of the National Association of Student Personnel Administrators (NASPA). Native of Louisville, KY, Adria is excited to call Houston her new home.
Please join us in welcoming Adria Terry to the Division of Student Affairs and Enrollment Services.