DSAES News
July 21, 2022
On May 2, 2015, University Career Services (UCS) and UH students partnered with local employers to give back to the community for their first Coogs Day of Service.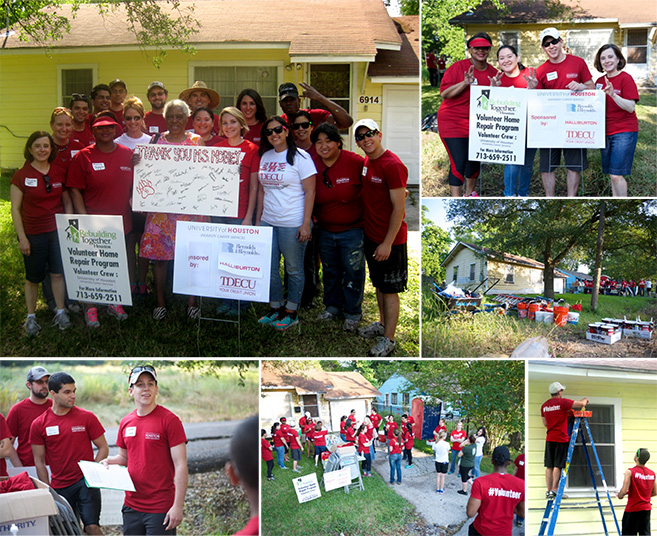 Rebuilding Together Houston is an organization that aims to restore hope and revitalize neighborhoods by repairing homes at no cost for low-income, elderly homeowners. Volunteers work with local companies to improve the quality of life for these elderly residents while ensuring a brighter future for Houston.
Brandon Cubina, recruitment services and outreach coordinator for UCS attended an East End Chamber of Commerce luncheon in November and met Rebuilding Together Houston at the event. They kept in touch and decided to partner with them as well as with Halliburton, Reynolds & Reynolds, and TDECU to help repair a home for a low-income and elderly homeowner. Home Depot also sponsored the event by generously contributing to truck rental while Houston Tool Bank provided the equipment for the home repair.
UCS targeted business and engineering students for this event, and the students learned about each of the companies and the opportunities they had available for them.
"This event was designed to help students engage with successful employers in the Houston area and explore job opportunities, while simultaneously helping a homeowner in need," said Cubina.
According to Monica Thompson, executive director of UCS, the two main goals of the department are to develop stronger partnerships with employers by providing opportunities to connect with students that are different from the traditional career fair events and to build a stronger presence with students and connect them with UCS outside of traditional workshops. As a former recruiter, Thompson understands that employers are looking for unique ways to connect with students and build their presence on campus. She said that she wishes to, "create unique and meaningful opportunities for employers to engage with UH students."
Over 30 volunteers participated in the event, including seven recruiters, four UCS staff members, and 19 students. Thompson considers the first UCS Coogs Day of Service to be a success and she looks forward to partnering with Rebuilding Together Houston in the future. Cubina added, "At the end of the day, seeing the pure joy in Ms. Mobley's reaction to her new homemade it worth all of our hard work and efforts."