DSAES News
July 21, 2022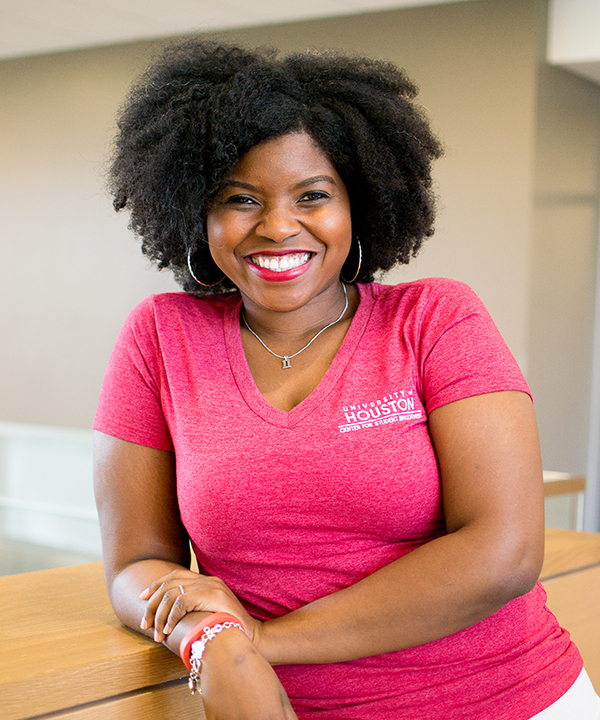 Ja'Nelle King joined the Center for Student Involvement on July 27, 2015 as an activities coordinator. The Center for Student Involvement (CSI) offers resources and support for all registered student organizations, leadership development programs, civic engagement and service opportunities, and direct advising of fee-funded organizations for events and traditions. With the breadth and depth of involvement opportunities provided to students, CSI strives to provide effective processes, opportunities for learning, and one on one support for students to lead and govern their organizations successfully. The Center creates an inclusive and accessible environment and provides meaningful and diverse learning opportunities to impact student success. Through their involvement, students will gain a sense of self and strong interpersonal skills, while becoming responsible and engaged citizens in their community.
As an activities coordinator, Ja'Nelle provides support to registered student organizations and their advisors through learning experiences, personal consultations, and training facilitation. Based on best practice, this includes risk management, leadership development, and organizational management. Ja'Nelle also directly advises the Cougar Involvement Ambassadors who promote student involvement on campus and serve as peer to peer support for registered student organizations.
Ja'Nelle earned her Bachelor of Health Administration, with a minor in Diversity Studies, from Texas State University-San Marcos. She then earned her Master of Education in Higher Education and Supervision from the University of Houston. Since graduate school, Ja'Nelle has served as a residence hall director at Sam Houston State University and a coordinator of New Student Orientation at Lone Star College-University Park. In these positions, she has residence life experience, as she oversaw 11 buildings with over 800 residents, led learning communities, and advised and supervised staff and students. She has been the lead on all aspects and planning of fall, spring, and summer student orientation programs, including parent orientations, at Lone Star College. Her experience with program development and expertise in organizational dynamics will prove to be valuable to the CSI team.
"Ja'Nelle has already made a tremendous impact in our work with student leaders as she has brought great focus and balance to our team. Her experience with advising and supervising students has been instrumental in the development of our new Cougar Involvement Ambassadors initiative. I am extremely grateful Ja'Nelle has joined the CSI team," said Donielle Miller, assistant director for the Center for Student Involvement.
Please join us in welcoming Ja'Nelle King to the University of Houston, the Division of Student Affairs and Enrollment Services, and the Center for Student Involvement!