DSAES News
July 21, 2022
Dr. Devan Ford joined the Division of Student Affairs and Enrollment Services as director for the Women and Gender Resource Center effective April 13, 2015. The Women and Gender Resource Center (WGRC) is dedicated to the advancement of gender equity in the University of Houston (UH) community with an emphasis on student safety, health, and success. It serves as a liaison between women on campus and the administration and is committed to providing a comfortable place where students, staff, and faculty can seek information on a variety of topics or to discuss issues of concern. It also advocates for and educates the UH community on topics that concern women with a special focus on violence against women due to gender, sexual identity, race, or disability.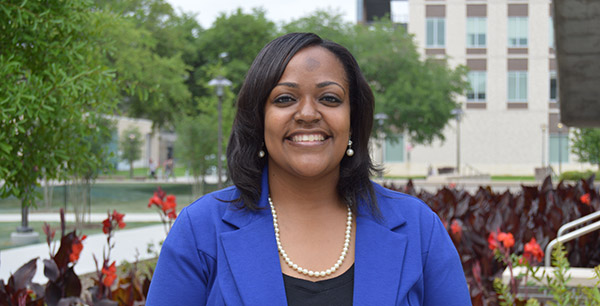 As the director for the WGRC, Dr. Ford will provide overall leadership in the development, planning, and implementation of a set of comprehensive services and programs that support meaningful learning content regarding women and gender will serve as the primary advocate for gender justice through the education, engagement, and empowerment of students, faculty, and staff at UH. She will also develop and supervise an advisory board that will serve as a resource and support group for the WGRC and will also serve as the staff advisor for all affiliated gender-centered student groups and organizations.
Dr. Ford brings over four years of experience in higher education. She has previously served as program coordinator for the FOCUS Learning Community program at Texas A&M University, where she coordinated a learning community program for first-year, first-generation college students, served as a success coach for 125-150 students per semester, and developed action plans to assist with their overall development and academic success, and identified needs of first-generation and minority students through student development theory research. Prior to her work at Texas A&M University, she served as a graduate assistant for Campus Apartments & Greek Houses, as well as a coordinator for Residence Education in the Department of Housing at the University of Arkansas, where she was a co-advisor for a student Women's Issues Committee and served on a professional committee called "No Woman Left Behind" to promote the awareness of sexual assault and sexual violence. She has completed training programs in Women's Issues, Diversity and Inclusion in the Workplace, Community of Respect, Mediation, and Suicide Prevention.
"We are very pleased to introduce Dr. Devan Ford as one of the newest members of the DSAES team. Her arrival marks an important milestone for UH as she will serve as the first full-time director of the Women and Gender Resource Center, and represents our strong commitment to advocacy and support for women and gender issues.  Dr. Ford represents the perfect mix of education, experience, skill, and ability required to advance the WGRC program to the next level," said Dr. William Munson, associate vice president for Student Affairs and Dean of Students.
Dr. Ford has earned a Doctor of Education (Ed.D.) in Higher Education Administration from the University of Arkansas, a Master of Science (M.S.) in Student Affairs and Higher Education Administration from Texas A&M University, and a Bachelor of Arts (B.A.) in Organizational Communication from Texas Southern University. She serves on the Board of Directors for Self Love First, a female youth advocacy non-profit organization, the College Reading and Learning Association, and is a member of NASPA – Student Affairs Administrators in Higher Education.
Please join us in welcoming Dr. Ford to the university and the division.