DSAES News
July 21, 2022
The Office of Admissions buzzes as a team of student workers and staff prepare for New Student Conferences in April. At the helm of the operation is Director of Prospective and New Student Programs Carolina Nutt, who joined the University last November.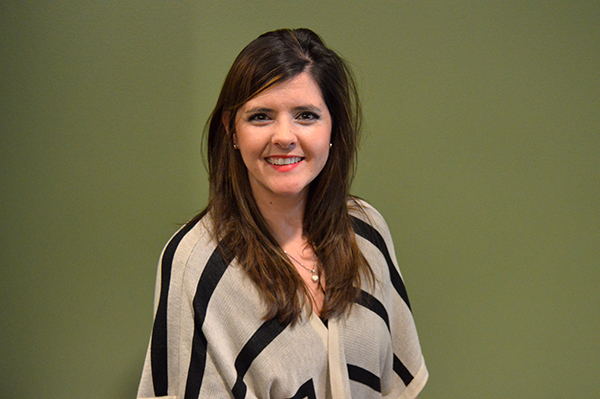 Her office brims with oversized boxes of t-shirts and giveaways. At any given moment, someone enters delivering a message, asking a question, or dropping off new inventory.
Between attending meetings and answering emails, Nutt speaks with students and parents on the phone about what to expect at orientation. She wears several hats throughout the day — mentor, educator, collaborator — managing each role with a calm, patient demeanor.
"Carolina is not a director who sits back and watches people do work," said Tierra Walters, program coordinator. "She's very hands-on. She's not going to ask me to do something that she wouldn't do herself."
Nutt oversees orientation and tours for new freshman and transfer students and leads orientation leaders, student ambassadors, peer assistants and staff training. When prospective students and family members schedule a campus visit, she ensures they have the best experience possible.
"My team is in charge of providing the first impression to students and parents," Nutt said. "What we do can make or break their decision to come here."
Most recently at Cougar Preview — an open house for prospective and admitted students and their guests — Nutt was responsible for organizing activities for more than 800 visitors. As people flocked to the event in the rain, dozens of cheerful orientation members welcomed them every step of the way.
For the New Student Conferences, Nutt is partnering with campus administrators and staff to develop a comprehensive program for students as they transition to college life. Several students will have traveled across the world to attend a conference, and some have never set foot on a college campus.
A native of Colombia, Nutt was the first in her family to attend college in the states. She recalls how intimated and overwhelmed she felt her freshman year. Mentors motivated her to get involved on campus, so she accepted positions as a resident assistant and orientation leader.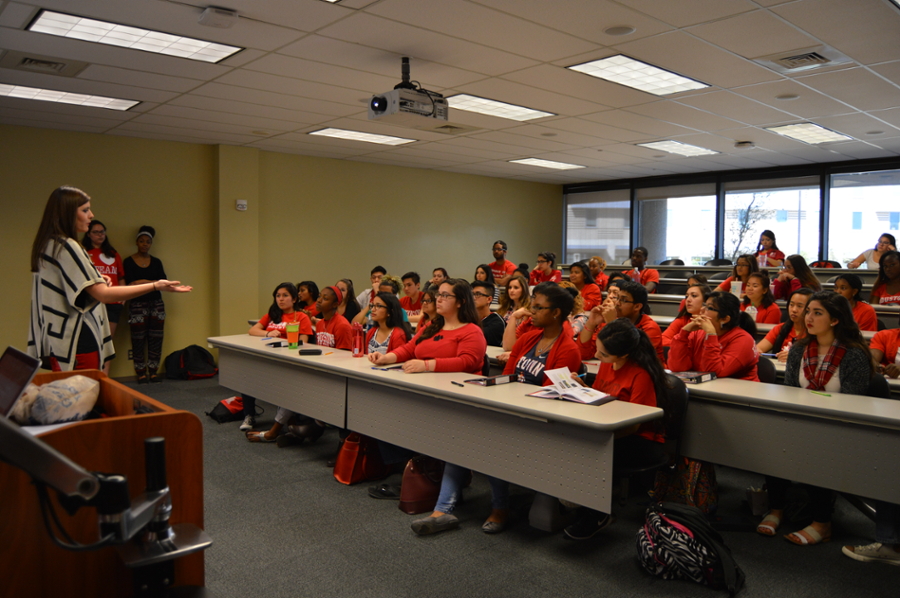 Carolina Nutt oversees a team of 60 student ambassdors and orientation leaders.
"I always try to remember those who gave me their time, those who guided me when I did not know what to do," she said. "I try to remember what I experienced and how I felt so that I can predict what prospective and new students are going through."
Nutt's student-centered approach comes from a genuine desire to see people reach their highest potential and from first-hand knowledge. Her opportunities as a student later shaped her decision to become a student affairs professional.
She received a bachelor's degree in political science and sociology from Florida State University and a master's degree in higher education and student affairs administration from the University of South Carolina. She currently is earning a doctorate in higher education and student personnel from The University of Mississippi.
Her history at the University of Mississippi as an assistant director of admissions for orientation and assistant director of enrollment services for orientation and parent programs influences the way she communicates with students and parents at UH.
"The most important lesson learned from my previous work experience is to keep students at the forefront," Nutt said. "Even though I may be dealing with a different population at UH, students have similar needs, and everything I do should be with them in mind."
She feels the same inclination toward the student workers she supervises every day. She wants them to be ready for whatever career path they choose.
"Their experience in our office should teach them leadership skills that will propel them to be successful," she said. "I want them to be a great representation of the University of Houston."