DSAES News
July 21, 2022
October 7, 2015 - The Center for Diversity and Inclusion recently held a banquet to introduce campus faculty and staff to members of the Achievement Initiative for Minority Males (AIMM). The initiative is a highly selective program that supports the recruitment and retention of African American and Hispanic males at the UH.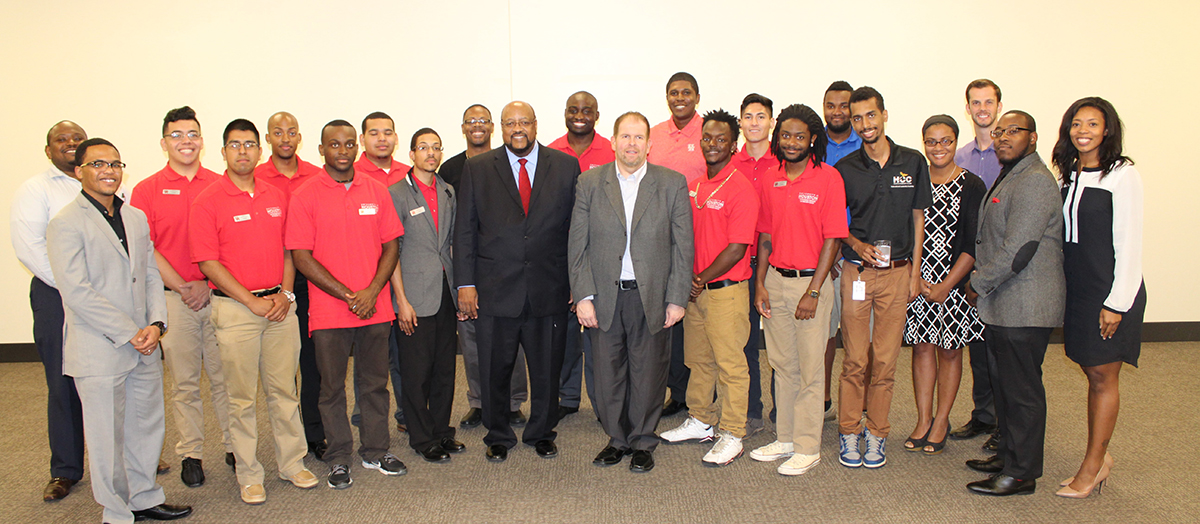 Program advisors Niya Blair, director of the Center for Diversity and Inclusion, and Terence Turner, residence life coordinator for Cougar Place, introduced the existing and new AIMM members. Guests were able to listen to several student testimonials and remarks by Dr. Elwyn Lee, vice president for Community Relations & Institutional Access.
Upon its foundation in the fall of 2014, the Center for Diversity and Inclusion originated several programs and initiatives to engage, empower, and educate the UH community. The AIMM program aligns with the Division of Student Affairs and Enrollment Services' strategic initiative to foster the creation of a global learning community that actualizes and embraces inclusion while preparing students to become active citizens.
"AIMM has been very instrumental in my success at UH. The mentorship program offered through AIMM gave me the opportunity to experience self-improvement, guidance and support in a way I have never experienced it before being a member of AIMM," said AIMM member André Brown.
Under the direction of the Niya, AIMM was designed to provide participants with academic support, in addition to character and leadership development through intentional programs and workshops. Males in the program also participate in community engagement opportunities and receive mentoring by faculty, staff and peers. There are 15 males a part of the Spring 2015 cohort and 6 males a part of the Fall 2015 cohort.