DSAES News
July 21, 2022
May 9, 2014 – On Friday, May 2, 2014, the Division of Student Affairs and Enrollment Services at the University of Houston held its third annual Division of Student Affairs and Enrollment Services Awards (DSAES) Awards Program and Luncheon in the beautiful new University Center ballroom. The program, developed and organized by the Professional Development Committee, is designed to honor staff members (individually or as a group or department) who exemplify the Division's commitment to supporting student success. Staff members from the 24 departments were encouraged to nominate colleagues and student employees for 16 award categories that highlight advancing the University of Houston.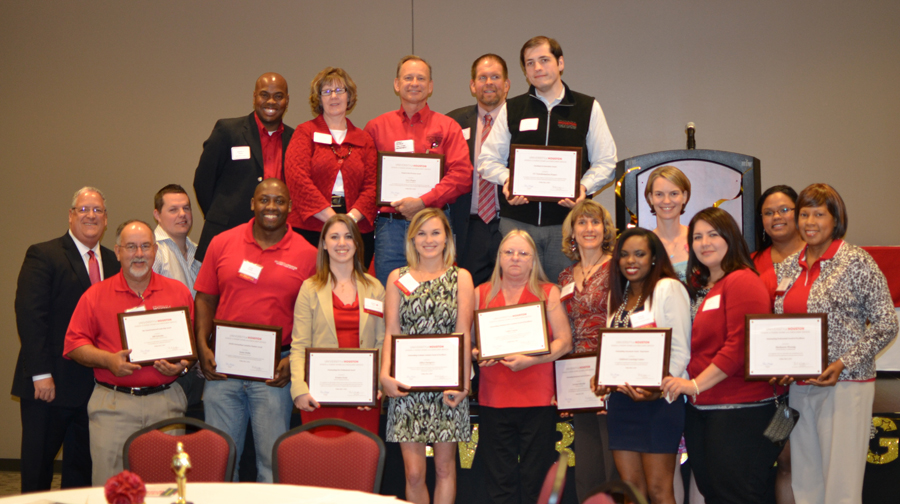 The program opened with a welcome from Theresa Cyr, assistant director of University Career Services and Professional Development Committee chair. On behalf of Provost Paula Short, Dr. Rick Olenchak, associate provost for Faculty Development and Faculty Affairs, provided some opening remarks before the awards program began. He commented on the great collaborative work of the Division and its impact on the UH community.
Dr. Richard Walker, vice chancellor for Student Affairs and Enrollment Services - UH System and vice president for Student Affairs and Enrollment Services - UH, reviewed accomplishments from the last year that demonstrate the Division's commitment to advancing the five-year strategic plan. Framed by the six strategic initiatives, he highlighted departmental achievements, including the centralization of all IT services into one department that serves the Division, partnering with Academic Affairs to co-lead the Foundations of Excellence project, the completion of the University Center Transformation Project Phase 1 construction, and the opening of two new residence halls, Cougar Village II and Cougar Place. He then acknowledged honors, achievements, and conference presentations from various staff who were recognized by external regional and national organizations.
Daniel Maxwell, associate vice chancellor for Student Affairs - UH System and associate vice president for Student Affairs - UH, served as the primary emcee for the award presentations. Recognizing that the review process was a generous donation of time and energy, Maxwell thanked those who served on the Awards Committee: Cedric Bandoh from the Student Government Association, Sandy Coltharp, and Michele Rush from Human Resources, Maria Solino from Faculty Senate, and Pam Muscarello from Staff Council.
There were approximately 50 nominations among the award categories, all of which included supporting letters of recommendation for the respective award description. Three awards, in particular, reflect significant impact and contributions to the UH community. The Students First Award was presented to Kyle Stehling from Student Affairs IT Services and the Counseling and Psychological Services (CAPS) Group Program. Kyle's colleagues noted that he "gives 110 percent" when working with students on their websites and communicates in such a "thoughtful way" about the "most effective way to showcase the organization, gain exposure, and clearly present their information." The nominators of the CAPS Group Program commented that this group honors the diversity of UH, is intentional about serving underserved populations, and gives "their full efforts to supplying competent care for the students."
The Cougar Spirit Award was presented to Terence Turner from Student Housing & Residential Life. Terence's "ability to communicate and collaborate with campus partners" for student programs was highlighted by his colleagues. He consistently goes "above and beyond for his department and students, whether it's related to housing or another issue."
The Friend of the Division Award was presented to Jerry Bogna from Facilities Management – Auxiliary Services. Jerry, praised for his excellent customer service and breadth of experience, is known as the "go-to" contact for maintenance, custodial, and other concerns for many of the facilities within the Division, namely the University Center, Children's Learning Centers, and Student Housing & Residential Life. After the program, he emailed those who nominated him: "I just wanted to tell all of you how much I was surprised by the award today, and how much I appreciate you all thinking of me. Any facilities/maintenance jobs are usually pretty thankless tasks, and I'm used to that, but it sure is nice to know once in a while that your efforts are noticed."
"With a division of this size, it is important that each staff member feels appreciated. We use this awards program as an opportunity for staff to celebrate one another for the great work done throughout the year to support our students and student success," said Dr. Walker.
The Division would like to congratulate all award nominees and winners.