DSAES News
July 21, 2022
July 28, 2014 – Dr. Raven Jones will join the Division of Student Affairs and Enrollment Services as the new director of the Urban Experience Program effective August 4, 2014. The Urban Experience Program (UEP) strives to create academic opportunities for participants in the program in concert with the mission of the University of Houston, the programs and services of the Division, and through community support. The multifaceted components of the program promote scholarship, community service, and personal and professional development. UEP is designed to simultaneously address the needs of the underrepresented student population and the changing dynamics of the American workforce. UEP prepares students for entry into the workforce by combining educational opportunities with valuable out-of-the-classroom experiences.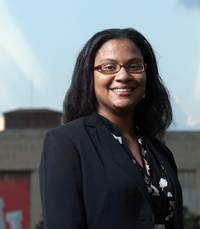 Jones' education and career have provided her with a series of diverse and rich experiences that give her a strong foundation for success in her new role. She most recently served as an education advocacy program manager with the Walton Henry Foundation. In this role, she developed, coordinated and implemented educational, personal and academic support programs for undeclared, underrepresented, foster care and first-generation student groups throughout academic careers. Jones has also held evaluation and assessment roles with Edu Consulting, Inc., the Children's Museum of Houston, and the Greensheet Education Foundation.
Jones' career also includes experiences as a researcher, program developer and trainer. Her doctoral research focused on the cultural resources within urban communities that can be utilized to improve the resiliency and psychological development of underrepresented adolescents. Jones has served as an instructor at the University of Houston and as a facilitator for the Quality Urban Education for Students and Teachers (QUEST). In addition, she served as the chairman for the Campus-Based Leadership Team in the Fort Bend Independent School District and the program co-coordinator for the Accelerated Curriculum through Technology (ACTT) Program.
Jones earned her Bachelor of Arts in English Rhetoric and Technical Communications from Texas A&M University, Master of Liberal Studies in Humanities and Social Science from Rice University, and Doctor of Education in Education Supervision and Administration from the University of Houston.
"Raven will bring new energy and vision to the Urban Experience Program."
"Raven will bring new energy and vision to the Urban Experience Program. Her collective professional experiences both in and outside of the classroom will enhance existing programs and services along with her lifetime commitment to working with underrepresented students. She is a passionate, resourceful, and innovative research-based educator and educational advocate. Her commitment to our students and to building collaborative relationships across the institution promise that UEP will reach its vision of being a premiere retention program at UH," said Daniel Maxwell, associate vice chancellor for Student Affairs, UH System, and associate vice president for Student Affairs, UH. Please join the Division of Student Affairs and Enrollment Services along with the staff of UEP in welcoming Raven to UH and home to Houston.