DSAES News
July 21, 2022
Houston, June 6, 2014 – The students who live in the University of Houston's on-campus residential communities showed their caring and compassion by donating items to help victims of a deadly tornado in Arkansas.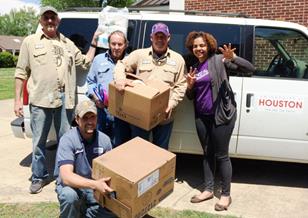 The twister, which struck the towns of Mayflower and Vilonia on April 27, killed 15 people and left behind a large trail of destruction. Within days, a donation collection effort was being organized by staff at Cougar Village I, Cougar Village II, Moody Towers, and Cougar Place.
The number of items collected from residents the week of May 5-9 impressed Cougar Village I Residence Life Coordinator Colette McFalls.
"It's amazing the amount of generosity our residents showed," she said. "We collected a lot of items. I can't even begin to describe how much was given."
The donations included canned goods, bedding materials, blankets, clothing, shoes, household cleaners, personal care items, towels, and even televisions and vacuum cleaners.
On May 15, an eight-passenger Student Housing and Residential Life van was loaded up with donations. McFalls then drove it to the campus of the University of Central Arkansas, where the nursing department staff was spearheading a tornado relief collection effort.
So many items were donated by UH's residential students that less than half of it could fit in the van. What was left behind did not go to waste ― it was donated to local charities.
"This couldn't have happened without the generosity of the students and the support of the housing department," McFalls said. "It was a wonderful show of support on everyone's behalf."
About the University of Houston
The University of Houston is a Carnegie-designated Tier One public research university recognized by The Princeton Review as one of the nation's best colleges for undergraduate education. UH serves the globally competitive Houston and Gulf Coast Region by providing world-class faculty, experiential learning and strategic industry partnerships. Located in the nation's fourth-largest city, UH serves more than 39,500 students in the most ethnically and culturally diverse region in the country.