DSAES News
July 21, 2022
Jennifer Skopal has been selected as the new Director for the UH Children's Learning Centers (CLC) effective Monday, June 10, 2013. In her role, Jennifer will direct the daily operations/activities of the Children's Learning Centers to provide instruction and care for children in a safe, healthy, nurturing environment.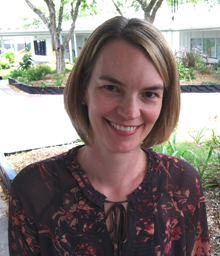 Specifically, Jennifer will maintain administrative compliance with state licensing and national accreditation criteria and interact with staff, children and parents to promote the goals and objectives of the program. She will ensure organizational communication, evaluation and accountability while managing grant proposals and preparing/submitting annual reports for SFAC, NAEYC and SACS.
Jennifer is responsible for promoting professional development for staff and managing the hiring, assigning and evaluation of all staff. Additionally, she will coordinate the development of long-term and immediate renovations of CLC facilities while developing/managing budgets.
Jennifer brings more than ten years of experience in the Early Childhood Education field. She has served the UH Children's Learning Centers as an Early Childhood Development Teacher, a Program Manager, and as Assistant Director. In her role as Assistant Director, Jennifer currently assists with all director duties, as well as manages the UH student internship/practicum placements at CLC, serves on the Division of Student Affairs and Enrollment Services Assessment and Marketing Committees and participates as a member of the CLC Advisory Board and UH Commission on Women.
Jennifer holds a Master's degree in Educational Psychology from the University of Houston and a Bachelor's degree in Psychology from Texas Christian University. She is a member of the National Association for the Education of Young Children (NAEYC), the National Coalition for Campus Children's Centers (NCCCC), and holds a Texas Director's Certificate.
Please join me in congratulating Jennifer on her new role within the Division of Student Affairs and Enrollment Services.