DSAES News
July 21, 2022
The Children's Learning Centers (CLC) has two convenient locations on campus that provide quality childcare to University of Houston faculty, staff, and students. The CLC's staff development training held on Friday, August 16, 2013, comprised of staff recognition and awards. See below for award descriptions and winners.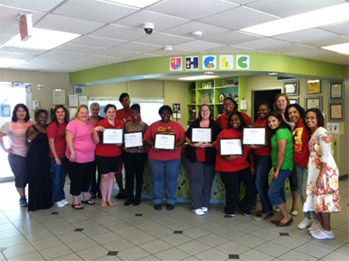 CLC Spirit Award
Winner: Demetria Warren; Toddler Program Associate Teacher
The CLC Spirit Award recognizes the individual or group (classroom/program) who best exemplifies the true "CLC" spirit. The individual or group's "spirit" is demonstrated through a positive attitude, acts of Center loyalty, teamwork, creativity, and cooperation. He or she is the "Heart of CLC", demonstrating integrity, respect and dignity of all individuals, and concern for the welfare of others. His or her life serves as a model that demonstrates what it means to take pride in our Center and the University of Houston.
Outstanding New Professional Award
Winner: Shana Comeaux-Hagins; Infant Program Assistant Teacher
This Outstanding New Professional Award is presented to a staff member with less than two years of service at CLC who has exemplified quality work and has made a significant impact on CLC, exhibited work beyond expectations, and developed outstanding relationships with customers. This staff member is one who has demonstrated leadership through a willingness to help others and developed strong working relationships through collaboration with other individuals within the Center. Nominees for this award must have joined the Center after May 1, 2011.
Children First Award
Winner: Cameron Toddler Program
The Children's First Award recognizes special, unique, or extraordinary efforts on behalf of children that reflect a "Children First" mentality. These individuals or groups (classroom/program) offer what we do best in the best possible way, while thoughtfully balancing educational needs and nurturance. Nominees endeavored to make services, facilities, programs, and/or the general learning environment welcoming and of exceptional quality in order to enhance children's success. Others, especially parents, may comment on the helpfulness, professionalism, and assistance of these individuals or groups and on their willingness to create a positive, active and inclusive learning community.
Outstanding Support Staff Award
Winner: Stacey Maldonado; Infant Program Assistant Teacher
The Outstanding Support Staff Award is presented to a CLC Assistant/Associate Teacher who portrays a collaborative and dedicated approach to promote CLC's mission and is essential to the success of the classroom and/or Center. This individual accepts responsibility, respects other's time, and possesses a high degree of integrity.
Early Childhood Professional Award of Excellence
Winner Sarah Anthony; Toddler Program Site Supervisor
This Early Childhood Professional Award of Excellence is presented to a staff member recognizing service, dedication, and contributions to the Center beyond the requirements and expectations of the job. Characteristics of an employee's performance that contribute to excellence include exemplary teaching practice and significant contributions to the development and delivery of quality early childhood education programs; communicating between home/school and advocating for increased parent involvement; equipping the classroom in order to create an environment that welcomes all children and their families, and working effectively with other teachers and other education professionals.
Student Employee Award of Excellence
Winner Brina Coffman; Infant/Toddler Program Student Assistant
The Student Employee Award of Excellence will recognize a student who has gone above and beyond expectations or honors a special, unique, or extraordinary effort he or she has made within a student employee position. He or she demonstrates strengths in areas such as customer service, exhibits a positive attitude, a dedication to the program, and has made a positive impact on behalf of the Children's Learning Centers.