DSAES News
July 21, 2022
July 23, 2013 - James Mable joined University Career Services as the Assistant Director of Alumni Career Services in May 2013. His role is to serve as a liaison between University Career Services and the UH Alumni Association by assisting recent grads and Alumni with employment.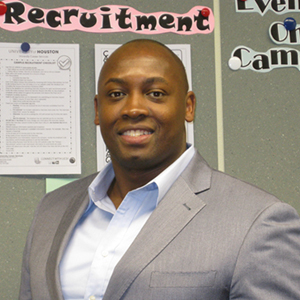 James brings specialized expertise to the University of Houston, connecting alumni with employers and counseling students and alumni on the current job market and employer expectations by offering many services, including, but not limited to: resume critiques, mock interviews, dress-for-success workshops, career advising and assessments, and job search assistance. He also assists with the planning and organizing of various career events/workshops with employers.
James holds a B.A. in Political Science and a master's degree in Education from Sam Houston State University. He has a number of years assisting students and alumni with employment at local institutions in the Houston area including the Lone Star College System. He is looking forward to meeting with students and alumni. Feel free to contact him with any questions you may have about careers.