DSAES News
July 21, 2022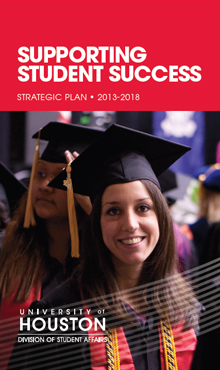 Oct. 15 - Last Wednesday, October 10, Dr. Walker held the kickoff event for the entire Division to announce the completion of a much-anticipated project. Upon his arrival at UH last September, Dr. Richard Walker, Vice Chancellor/Vice President for Student Affairs, embarked on changing the culture of the Division of Student Affairs and creating a guiding force that would lead a large group of talented individuals on a path to being a Tier One Division of Student Affairs. Within a six-month period, staff members from each of the fifteen departments played an integral role in evaluating the Division's strengths and weaknesses, establishing a new mission, vision, and values, and developing strategic initiatives with supporting action steps. The entire process was completely organic, which is what Dr. Walker envisioned, and allowed each team member to have ownership in the content of the plan and the direction of the Division.
Over the last year, the Division's leadership has been restructured, and many new employees have joined the team. Over the summer alone, over 20 new staff members were hired, which has had a positive impact on the level of service provided to our campus community. Staff who serve on the Division's Professional Development Committee have also created various programs and learning opportunities that promote comradery and support among colleagues. Other accomplishments of note include:
Implemented a culture of assessment with an emphasis on student learning outcomes and improved programs and services in support of student success
Improved marketing and communications to students and the UH community
Expanded campus-wide infrastructure

The UC Transformation Project
Two new housing facilities under construction

Enhanced campus programming and engagement opportunities

WOW: Weeks of Welcome
Cougar Nights
New residential life programming model
Graduate & Professional Student Association (GPSA)

Upgraded technology and services

New online housing systems
Merged judicial processes
New student organization database management system
As the Division continues along the path to progress, Dr. Walker is excited to implement the initiatives presented in the strategic plan to foster an environment that supports student success in and out of the classroom.