DSAES News
July 21, 2022
Houston, Texas (May 23, 2012) – On Thursday, May 3, 2012, the University of Houston's Division of Student Affairs held its first annual Division of Student Affairs Awards Program and Luncheon at the University Center. In an effort to honor those who exemplify the Division's commitment to supporting student success, staff members from the 15 departments were encouraged to nominate colleagues and student employees for twelve award categories that highlighted advancing the UH community.
The program kicked off with a welcome from Keith Kowalka, Assistant Vice President for Student Affairs and Professional Development Committee Chair. The Division of Student Affairs Awards program, developed and organized by the Professional Development Committee, is designed to honor staff members (individually or as a group in some cases) who embody the Division's commitment to service. The awards recognize the ongoing contributions to excellence that members of the UH community put forth each day.
The Division was delighted to receive remarks from President Renu Khator, who expressed her gratitude to Dr. Richard Walker, Vice President for Student Affairs, for transitioning the culture of the Division and was excited to see the acknowledgment of collective achievements among the departments. Identifying the important role of student affairs in the college experience, she opened by thanking the Division for enhancing student life through engaging programs and services as a component of student success.
"You are the ones who provide inspiration for our students." Dr. Khator added, "Student success is increased when students are engaged in campus life." She encouraged the audience to think of the Division of Student Affairs as a community and look ahead to envision what this group will look like in the future. As she lightheartedly referenced her social networks and Twitter shorthand, she asserted that we must acknowledge that things will change and we should look at both vertical and horizontal growth within our capabilities and practices to cater to the changing needs of students. In her closing statements, Dr. Khator charged the Division to be brand ambassadors and project a sense of pride and confidence to students and change the previous perception of the University of Houston. In response to Dr. Khator's remarks, program attendees felt compelled to continue to support student engagement as part of the out-of-classroom component of campus life, and serve as role models to guide them from start to finish.
Dr. Walker returned to the podium to review accomplishments across the Division over the last two semesters. He began with an overview of the realignment of the divisional leadership structure and functional areas of responsibility to better encourage engagement and better serve student populations. He also mentioned a focus on assessment with an emphasis on student learning outcomes and notes that the Division's strategic planning process will begin later this month. Dr. Walker then highlighted several achievements within each department that ranged from new hires, facility enhancements, student involvement, campus events and programs, and service utilization.
Following the lunch break, Daniel Maxwell, Associate Vice President of Student Affairs, resumed the program with the announcement of the award nominees and recipients. There were a total of 40 nominations for the 12 categories, all of which included supporting letters of recommendation for the respective award description. Recognizing that this award process was a tremendous expression of support and service, Maxwell took a moment to acknowledge all persons involved in the selection, nomination, and recommendation processes for taking time to contribute to this program. The categories and winners for the first annual Awards Program are:
Outstanding Professional Award of Excellence: Lawrence Daniel, Director, University Centers Marketing Communications and Retail
Outstanding New Professional Award: Micah Kenfield, Program Coordinator, University Centers
Outstanding Administrative Assistant/Support Staff Award: Linda Jauregui, Office Coordinator, University Centers
The Transformational Leadership Award: Sherry Howard, Director, Children's Learning Centers
Students First Award: Keith Kowalka, Assistant Vice President for Student Affairs
Graduate Assistant/Student Award of Excellence: Courtney Reynolds, Instructional Assistant for Leadership Development, Graduate Student in the College of Social Work
Student Employee Award of Excellence: Ngoc Tran, Shasta's Cones & More employee
Cougar Spirit Award: Children's Learning Centers
3C Award: Cat's Back Program (Coordinated by Lawrence Daniel, Micah Kenfield, Rommel Abad, and Adam Finney)
Diversity Award: Daniel Gray, Activities Coordinator, Center for Student Involvement
DSA Outstanding Committee Member Award: Theresa Cyr, Assistant Director of Campus Recruitment, University Career Services; and Matt Dulin, Director, Student Publications
Friend of the Division Award: Dona Cornell, Vice President for Legal Affairs and General Counsel for the University of Houston; and Catherine Horn, Associate Professor in the Department of Educational Psychology in the College of Education
As each of the winners was announced, they headed to the stage to accept their award and take a photo with Dr. Walker and then posed for a group photo at the end of the reception.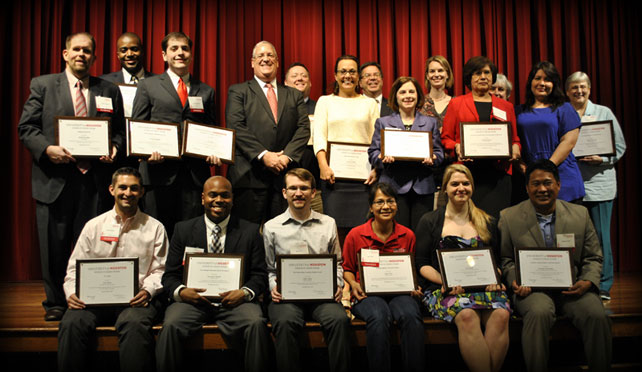 The program and luncheon were well-attended and supported by divisional leadership and support staff. The Division of Student Affairs plans to implement this program on an annual basis, and based on the first year's response and achievements across the departments, expects next year's pool of nominees to double as the Division focuses on enhancing the campus culture by supporting student success.