Administration & Finance / News /
News Release
FOR IMMEDIATE RELEASE
Houston Moth GrandSLAM III to Feature Expert Storytellers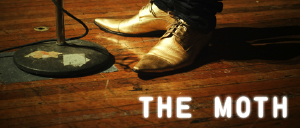 Houston, Aug. 21, 2017 — Storytelling nonprofit The Moth presents the Houston Moth GrandSLAM III: Out on a Limb on Friday, Sept. 8, at Cullen Performance Hall.
The show, which is being sponsored by Houston Public Media, starts at 7:30 p.m., with doors opening at 6:30 p.m. Tickets are $25 and are available through Spectra's website. Student tickets are $18. Tickets can also be bought on the day of the show at the Cullen Performance Hall box office, while supplies last.
The Moth's GrandSLAM is a battle of wits and words - fierce, hilarious, heart-breaking and all points between. Hosted by Dusti Rhodes, the evening will include stories by 10 local StorySLAM winners expounding on the theme "Out on a Limb."
Over the course of the evening, storytellers will step up to the mic to tell personal tales of taking chances. The winner will emerge as the ultimate Houston GrandSLAM story champion.
The Moth is an acclaimed nonprofit organization dedicated to the art and craft of storytelling, which is celebrating its 20th anniversary. Since launching in 1997, The Moth has presented over 20,000 stories, told live and without notes in front of standing-room-only crowds worldwide.
For details about upcoming concerts and shows at Cullen Performance Hall, follow it on Twitter, Facebook and Instagram.
---
About Cullen Performance Hall
Nestled among the tree-lined sidewalks in the heart of the University of Houston campus is the historic Cullen Performance Hall, which has been one of the premier entertainment venues in the city of Houston since it opened in 1950. Its cozy, relaxed atmosphere provides the ideal setting for music concerts, public lectures, dance performances and theatrical productions.