Administration & Finance / News /
News Release
FOR IMMEDIATE RELEASE
Abigail Nivens
UH Dining Services - Marketing Coordinator
832-843-7051
nivens-abigail@aramark.com
UH Dining to Celebrate Mardi Gras in Fresh Food Company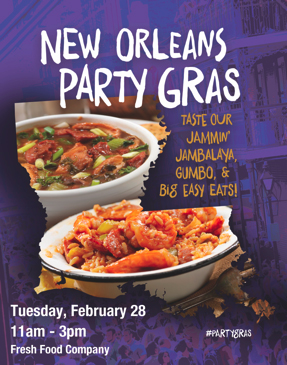 Houston, Feb. 17, 2017 — University of Houston Dining Services will host a Mardi Gras-themed lunch on Feb. 28, from 11 a.m. to 3 p.m.
UH Dining will celebrate Fat Tuesday in the Fresh Food Company in Moody Towers with a Big Easy feast. Patrons can expect to see Cajun specials such as jambalaya and gumbo on the menu.
The Mardi Gras event will have its own SnapChat geofilter; students are encouraged to take and share photos using it. UH Dining asks that patrons tag them in any photos posted using the geofilter. UH Dining is available on Instagram, Twitter and Facebook.
For more information about dining services on the UH campus, visit www.uh.edu/dining. Join UH Dining on Facebook, Twitter and Instagram to receive the latest dining information.
---
About the University of Houston
The University of Houston is a Carnegie-designated Tier One public research university recognized by The Princeton Review as one of the nation's best colleges for undergraduate education. UH serves the globally competitive Houston and Gulf Coast Region by providing world-class faculty, experiential learning and strategic industry partnerships. Located in the nation's fourth-largest city, UH serves nearly 44,000 students in the most ethnically and culturally diverse region in the country.