Administration & Finance / News /
News Release
FOR IMMEDIATE RELEASE
Valarie Smith
Executive Secretary
713-743-3847
vmsmith2@uh.edu
UH Community Should be Prepared for Hurricane Season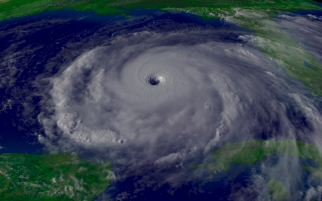 Houston, June 2, 2017 —Do you know where your flashlights are? What about extra water or other emergency supplies? June 1 marks the first day of hurricane season. This means it's time to take stock and ensure you have everything you need for you and your family - including pets - to make it through several days without power, and possibly away from home if an evacuation is ordered.
Here are some quick tips to help you be ready:
1. Have a plan: Know whether you live in an evacuation zone by visiting this page. Make preparations to evacuate by knowing your evacuation routes and having a pre-planned destination. If you don't live in an evacuation zone, make plans to shelter during the storm by gathering the proper emergency supplies.
2. Have an emergency kit: Flashlights and batteries, first aid supplies, daily medication, food, water, cash, a battery-powered radio, and a crank or solar-powered USB charger are some key items. For a full list, see the Emergency Preparedness Supplies Checklist. Consider each family member and pets to have enough supplies to last at least three days.
3. Stay informed: Register for alert systems for the city/county where you live. To stay informed on the University's status and receive alerts on campus closures, make sure your contact information is updated in PASS for employees and myUH for students. For information on how to update contact information, visit here.
For more in-depth information and a printable checklist to help get prepared, visit the UH Office of Emergency Management Hurricane Preparedness website or FEMA's Hurricane page.
---
About the University of Houston
The University of Houston is a Carnegie-designated Tier One public research university recognized by The Princeton Review as one of the nation's best colleges for undergraduate education. UH serves the globally competitive Houston and Gulf Coast Region by providing world-class faculty, experiential learning and strategic industry partnerships. Located in the nation's fourth-largest city, UH serves nearly 44,000 students in the most ethnically and culturally diverse region in the country.