Administration & Finance / News /
News Release
FOR IMMEDIATE RELEASE
Kristina Michel
Communications Coordinator
713-743-4162
kmmichel@central.uh.edu
UH Printing Hallmarks Faculty Café by Installing Window Design, Lettering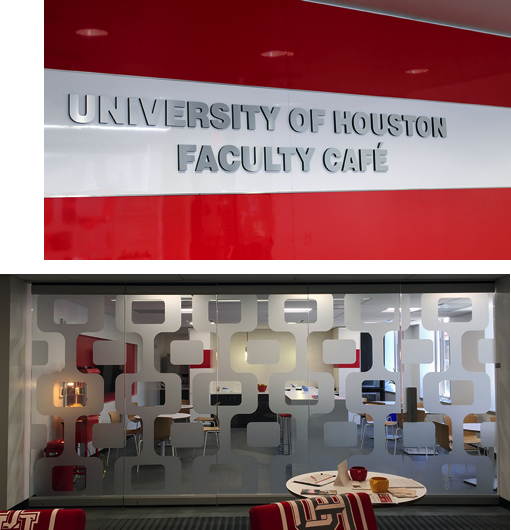 Houston, June 23, 2017 —Earlier this year, the Faculty Café opened as an enhanced lounge and work area where University of Houston faculty could interact and collaborate in a comfortable environment. UH Printing Services recently installed a glass window design and lettering to complete the café's polished, modern look.
The window design and lettering were installed earlier in June at the request of the Office of the Provost. The two pieces add the final aesthetic touches to the café, which is located on the ground floor of the Ezekiel W. Cullen Building.
The frosted glass window design divides the kitchen and common areas, adding a fresh accent piece to the space. The bold, glossy silver lettering located by the common area also compliments the café's modern design.
"Our faculty and campus leadership have already expressed how wonderful an extra touch these items add to the café," said Erika Henderson, assistant provost, faculty recruitment, retention, equity and diversity in the Office of the Provost. "It's great to know about the many services that Printing Services can offer. The excellent level of customer service can't be stated enough."
The Faculty Café opened to the public in January. The space is designed to promote an "esprit de corps" among UH faculty, encouraging individual and group interactions and collisions in an informal setting. The café consists of three interconnected spaces: a shared common and seating area, a café style seating area with kitchen space and coffee, and shared executive office space for emeriti faculty that offers Wi-Fi access and printing. The shared common area can be configured to allow for faculty-related meetings and events.
In addition to the window design and the lettering, Printing Services is working with the Office of the Provost to install some directional signage inside the Ezekiel W. Cullen Building to help faculty and guests better locate the café. The direction signage is expected to be installed by mid-summer.
---
About the University of Houston
The University of Houston is a Carnegie-designated Tier One public research university recognized by The Princeton Review as one of the nation's best colleges for undergraduate education. UH serves the globally competitive Houston and Gulf Coast Region by providing world-class faculty, experiential learning and strategic industry partnerships. Located in the nation's fourth-largest city, UH serves nearly 44,000 students in the most ethnically and culturally diverse region in the country.