Administration & Finance / News /
News Release
FOR IMMEDIATE RELEASE
Saira Treviño
Communications Coordinator
713-743-6342
Strevi10@central.uh.edu
State-of-the-Art Blood Pressure Kiosk Now Installed at UH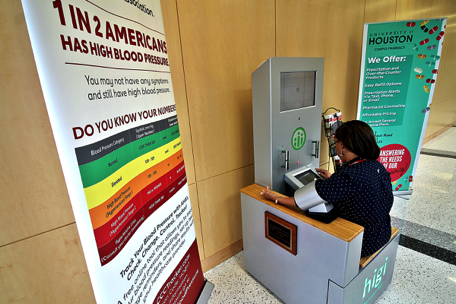 Houston, March 13, 2019 — It's now easier than ever before for University of Houston staff, faculty and students to check their blood pressure quickly and conveniently.
That's because a blood pressure kiosk installed in the Health 2 Building earlier this month is available to the entire UH community. It is free to be used by all, thanks to a partnership with the American Heart Association, said Vanessa Tilney, UH Student Health Center executive director and chief physician.
The kiosk donation, which is one of three throughout the Houston area, comes from an ongoing project in association with the AHA to increase blood pressure awareness in the surrounding communities. According to Tilney, UH was the AHA's top choice for the donation and the first to receive the blood pressure kiosk.
"Bringing the kiosk to campus is a collaborative project to promote heart health for the entire community," UH Wellness Administrator Court Stein said. "The University is partnering with the American Heart Association and its 'Check, Change, Control' program to make this happen, not only for the health of our students, but for UH employees and area residents as well."
According to Stein, high blood pressure, also known as hypertension, is one of the top five chronic health conditions for employees across the UH System.
"Many people are unaware that they have hypertension because some do not experience or recognize the common signs and symptoms of high blood pressure, also referred to as 'the silent killer,'" Tilney said. "Because hypertension can increase one's risk for significant cardiovascular events such as a heart attack or stroke, and can even accelerate the development of diabetes, it is important to recognize the condition and then monitor and manage it appropriately."
The signs and symptoms for hypertension can often include a feeling of anxiety, headaches, lightheadedness, shortness of breath and/or chest discomfort, she said. However, it's important to keep note of these, as they can often be different among people, gender and age.
The new kiosk can help users learn more about their health and whether they should seek further medical attention to make changes to their daily routines.
"Many faculty and staff are of an age where hypertension is particularly relevant," said Stein, who is also responsible for promoting the effort among UH employees. "We think the new blood pressure kiosk will be an especially important tool that our faculty and staff can use to monitor, track and record their blood pressure numbers on a consistent basis."
The official unveiling took place at the southeast main entrance of the Health 2 Building on Thursday, March 7. Event attendees became familiar with the location of the kiosk and were given a live demonstration of how it works.
"The inauguration was a great success. We know that this new initiative will help individuals keep track of their heart health," Tilney said. "Having the free kiosk on campus is one more way in which we can support our community in living healthy and productive lives, which can have multiple benefits."
Stein said the kiosk is just one of many good health initiatives coming to UH.
"Stop by and engage in a free blood pressure screening. Also stay tuned for the AH's 'Check, Change, Control' program to be introduced in the fall," he said.
---
About the University of Houston
The University of Houston is a Carnegie-designated Tier One public research university recognized by The Princeton Review as one of the nation's best colleges for undergraduate education. UH serves the globally competitive Houston and Gulf Coast Region by providing world-class faculty, experiential learning and strategic industry partnerships. Located in the nation's fourth-largest city, UH serves more than 46,300 students in the most ethnically and culturally diverse region in the country.