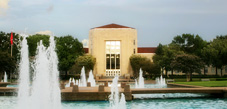 Safety and Security Committee Tours New Kiosks





The Safety and Security Committee at the University of Houston received a private tour of the new security kiosks that were completed last week. The committee provided very vital feedback in the planning stages to the administration. Project Manager Mike Davis conducted the tour and provided information on the construction. Student Government Association representatives were on hand to participate in the tour, and Mike Davis commented, �It was neat to see the student�s active participation and keen interest in this project and University safety and security.�

Along with the students were members of the Staff Council. The committee was very impressed with the new kiosks and knew that this would greatly assist with the safety and security in various parking lots on campus.