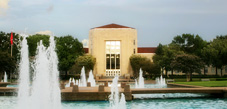 UH ARCHITECTURE STUDENTS BUILD SOLAR STRUCTURE FOR MCREYNOLDS MIDDLE SCHOOL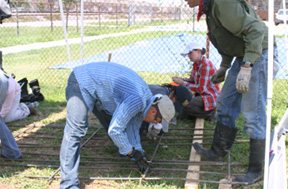 It�s a hot day of triple digit heat, but the students of the University of Houston�s Graduate Design/Build Studio (GDBS) brave the temperatures to share their very own green project with the students of McReynolds Middle School. That same blazing sun that heats up the construction site will be the sun that powers the Solar Shade Tree specially designed and built by the graduate students for the campus.

The Solar Shade Tree project is giving 14 UH graduate students hands-on experience to see a project from idea to completion. Each year, the GDBS, now in its 22nd year, works on site-specific solutions to climate-influenced building problems. Not only are the graduate students in the program building a gift for the students at McReynolds, but they are also getting an exceptional learning experience. The graduate students are using the skills they have developed through their studies including design diagramming and construction process sequencing to working with vendors, ordering supplies and applying for permits through the City of Houston.

�To be out here and see it and build it with your own two hands is extremely rewarding. It�s an invaluable experience,� said Mike Rhodes, GDBS student.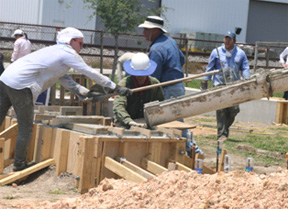 Throughout the process, UH architecture professors Patrick Peters and Mark Dillon have been working side-by-side with the students. The professors and their students are building the Solar Shade Tree near soccer fields on the campus. With only young trees currently adjacent to the fields, the Solar Shade Tree will provide some relief from the sun for the McReynolds students and their families.

�Also, it provides a venue for outdoor learning and, in its design and interaction with the natural environment, provides several teaching moments for the math and science curricula among others,� Peters said.

The Solar Shade Tree will be constructed using steel, concrete and wood to withstand Houston�s hurricane force winds. It will be 13 feet wide, 44 feet long and stand 12 feet high. Four 150 watt solar panels will power the low voltage fans and LED security lights and charge batteries to allow it to work independently off of the power grid.

UH GDBS collaborated with the SPARK School Park Program for funding for the project. The SPARK program helps public schools develop their playgrounds into community parks. SPARK receives letters of interest from the schools interested in participating in the program. Those schools most in need of parks are normally selected first.

�It�s a benefit that we�re doing this at an underprivileged school where kids may not have thought about going to college. Maybe if they see this structure, it could inspire them to decide they want to go,� Rhodes said.

The Solar Shade Tree was completed in mid August. For more photos from the construction site, visit the Green UH Facebook fanpage.