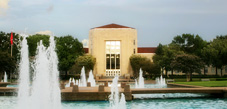 TO-GO POLICY CHANGES IN RESIDENTIAL DINING HALLS
Due to a low return rate in the re-usable to-go container program at the Fresh Food Company and RFoC, UH Dining Services has reduced the availability of the program to allow only one container out at a time.

The re-usable containers are still free to anyone with a Cougar Card, but guests must now bring back the original container before they are able to check out a second one. To check in or check out a container, Cougar Card holders simply need to have their card swiped at the register.

�We had such a low rate of return when we allowed guests to have two containers out at a time, that we had to re-think the program,� says Misty Pierce, marketing manager for UH Dining Services. �It is important for our customers to return the containers so that we can continue to provide this free service.�

As always, UH Dining Services will wash and sanitize the containers when they are returned. To make return easy, containers can be dropped off at any campus convenience store or residential dining hall. UH Dining Services also asks that anyone who still has old containers please return them to avoid a shortage in the program during peak demand periods.