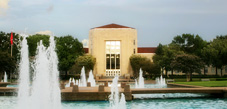 UIT meeting growing demand for wireless services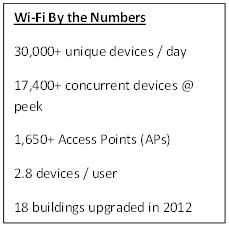 As the demand for wireless services continues to grow across campus, the University Information Technology department continues building more network capacity to meet these needs.

�Users� expectations have changed with regard to wireless services,� said Rita Barrantes, Associate to Chief Information Officer Dennis Fouty and Manager of UH Wireless Services. �The wireless network is no longer considered an access network used for convenience, but has become the preferred access network for students, faculty and staff.�

In the last 12 months, UIT has more than doubled the number of wireless access points (WAPs) on campus. A wireless access point is a device that allows wireless devices to connect to a wired network using Wi-Fi, Bluetooth or related standards.

In spring 2012, UIT initiated its wireless infrastructure refresh program in anticipation of this increase in demand. Additional WAPs have been installed in multiple buildings, critical classrooms, and high-density locations, including M.D. Anderson Library and the UC Satellite. A list of upgraded buildings and locations is available as a reference for customers at https://www.uh.edu/wi-fi.

For information about UH wireless services, tips to improve your wireless experience, FAQs, and coverage map, please visit www.uh.edu/wi-fi. Let us hear about your Wi-Fi experience; email us at support@uh.edu or follow us on Twitter @UHWireless.