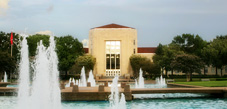 Employee spotlight � Andre Marsh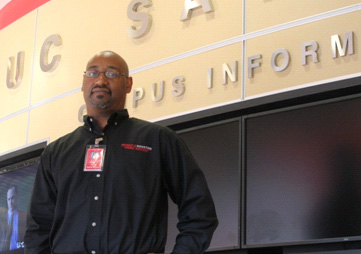 This has been a busy fall for Andre Marsh.

As the assistant food service director for UH Dining, he is in charge of the food establishments within the UC Satellite, which has seen business skyrocket this semester because of the renovation work at the University Center.

But as a big sports fan, it also means fantasy football season is in full swing. Marsh participates in five leagues.

�I�m a huge fantasy football fanatic," he said. �It takes up a lot of time � a lot of my time.�

Marsh has worked for ARAMARK at the University of Houston for six years. Besides directing the day-to-day operations at the UC Satellite�s Taco Bell, Chick-Fil-A, Pizza Hut, Burger Studio and Starbucks, he oversees Einstein Bros in Philip Guthrie Hoffman Hall and the other Starbucks location in Bauer. In all, he supervises about 70 employees.

He�s held his current position for seven months. Before that, he was the location manager for the food court that was in the UC, which is currently undergoing a massive remodeling.

The extensive work taking place at the UC meant the food establishments there have had to close. But the students who relied on those businesses still have to eat, so they have turned elsewhere for their meals. Many of them are walking over to the UC Satellite, which has experienced a 20 percent spike in sales this semester. On average, about 4,000 people are being served daily at the UC Satellite.

�We knew we would be busy, but we�re even far more busier than we projected our sales to be,� Marsh said.

Before coming to UH, Marsh worked for Luby�s for 13 years, followed by a stint at Golden Corral. One of his colleagues at Golden Corral took a job at UH, and about eight months later, Marsh followed in his footsteps.

�A big reason why I wanted to come to UH is the atmosphere is a lot different than in regular restaurants,� he said. �The energy level of the student body here is higher. They are really excited and engaged about the locations we have here on campus.�

Marsh was born in Galveston and lived there for the first couple years of his life. His father, however, was in the military, which meant the family moved around quite a bit, including some time in Panama. Marsh ended up living in the west Texas town of San Angelo during his high school days, graduating from Central High School, where he played wide receiver and running back on the football team and also ran track.

He attended nearby Angelo State University, graduating with a bachelor�s degree in business management.

After college, he moved back to Galveston. He now lives in the Cypress area with his wife of three years, Donna. He has a 13-year-old son, Trey, from a previous marriage. Marsh spends a lot of his spare time attending his son�s basketball games. His son was a major player in his junior high team�s undefeated record in district play last year and was named the team�s player of the year.

Although Marsh�s job keeps him busy, he turns to watching sports and playing fantasy football as a way of relieving stress.

His wife is used to him spending a lot of time with fantasy football and doesn�t mind it.

�She knows that during football season, that�s what I do,� he said.