LIVE A FRUITFUL LIFE

I could eat fruit all day, just as it is - fresh, yummy, juicy and bursting with flavor! Each fruit has a distinct taste from that of any other fruit. Some fruits like grapes, apples, jujubes and pears are sweet in taste while lemons, oranges and limes are sour.

So the question is, why does every fruit have its very own fruitilicious taste? The answer lies in the different combination of the fruit compounds: fructose, certain acids, cellulose, proteins, vitamins and starch. Fruits having more fructose content are tastier; fruits with more acid are sour. The orange is a fruit with almost equal parts fructose and acid, making it sweet and sour.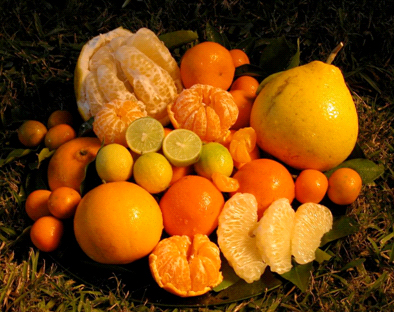 Urban Harvest is continuing to deliver sweet things to brighten up our day. They are gearing up for their 11th annual Fruit Tree Sale hosted by the University of Houston. This year, Urban Harvest plans to have a large selection of trees and berries to satisfy everyone.
Some of the fruit trees available this year are: apples, pears, persimmons, peaches, nectarines, plums, cherries, lemons, limes, oranges, tangerines, grapefruit, kumquats, limequats, pummelos, blueberries, blackberries, mulberries, pomegranates, avocados, dragon fruit, jujubes, grapes, muscadines, star fruit, grumichama, jaboticaba, sugar apple, lychee, banana and more.

It�s time you consider planting your own fruit trees in the backyard. Several trees with different harvest times can bring fruit to your table almost year round. If your mouth isn�t watering yet, it will be with the first smell of the fruit tree flower and the first taste of your own homegrown fruit. Choose the ones you like to eat and plant a few. You will be surprised at the improved taste of homegrown fruit, not to mention the nutrition obtained by eating a fruit freshly picked.

Consider the other benefits of planting your own fruit trees. First, fruit trees create a lovely shady place to relax. Also, you�ll have your own supply of organic fruit. You and your family will have fresher fruits that you get to control, not to mention the savings you will see on your grocery store bills. Finally, planting fruit trees are good for the environment by cleaning the air, improving soil quality and preventing erosion.

Start small by purchasing one or two fruit trees. They require little care, and reap a huge harvest. It is a step that could introduce new adventures to your life. Unlike the daily care of vegetable gardens, most fruit trees need only a few hours of care a year. Imagine yourself harvesting fruit. A mature tangerine tree can produce 500 or more fruit each year. A fig (yes, you will love freshly grown figs) produces thousands of figs, and a lemon tree grows enough lemons to see you through the year. There will be enough to share and make some friends happy too.

Fruit trees are easy to grow in metro Houston, with little care and big results. Learn more about growing fruit trees from Urban Harvest. They make it easy by bringing you the very best varieties that can be grown in our area. Buy a tree or two from the largest one-day fruit tree sale in the city of Houston and learn �the how- tos� at the presale talks.

Event: Urban Harvest Fruit Tree Sale
Place: Robertson Football Stadium on the University of Houston campus
Scott Street at Holman Street
Date: January 15, 2011
Time: 9 a.m. to 1 p.m. or until sold out

Presale talks: Heidi Sheesley and Ray Sher
Place: United Way of Greater Houston, 50 Waugh Drive at Memorial Drive
Dates: Tuesday, January 4 (7 to 9:30 p.m.)
Saturday, January 8 (2 to 4:30 p.m.)