Student Spotlight
Nicole Blanton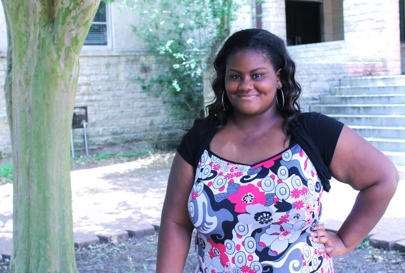 Nicole Blanton was a high school student in 2008 when Barack Obama was elected president of the United States.
Up until then, Blanton had always thought she would one day become a meteorologist, with an eye toward being a TV news weather forecaster. The presidential election, however, led her to discover her biggest passion in life: politics.
"After that, I became much more interested in how government and the political process works," said the broadcast journalism senior who is minoring in political science.
She founded a blog, www.prettypolitics.com, where she discusses political topics. Her dream is to combine her love of politics with her broadcasting studies and one day become a political correspondent or even host her own political talk show.
"I can talk about politics all day long," she said.
Blanton grew up in Houston, but moved to Dallas when she was in the sixth grade. After graduating high school, she knew she wanted to return to her hometown and attend the University of Houston. For the past year and a half, she's been a student worker in the Office of Sustainability, holding the role of social media coordinator.
Her job revolves around updating the office's Twitter, Facebook, Pinterest and Instagram accounts, posting information and links about sustainability-related events and issues. That includes all of the projects taking place on the UH campus.
"I basically look at myself as sort of the PR person for the office. I get the message out about UH's green initiatives and how students can incorporate sustainable habits into their daily lives," she said.
She also helps with tablings for the Office of Sustainability at various events, including new student orientations.
"It's a great job. It's awesome. I really couldn't have asked for a better situation to be in," she said.
Her studies at UH keep her busy. She interviewed SGA candidates and co-anchored a student news show this past semester called "At UH" that allowed her to write and report campus news stories. In the fall, she interviewed Dominique Sachse, a news anchor for KPRC-TV, for another show called "Video Workshop" as part of her media performance class. She also interviewed retired NASA astronaut Dr. Bonnie Dunbar, who serves as the director of the UH STEM Center.
When she's not focused on school, she likes to spend time with her husband. She also likes to sing.
"In high school, I was very active in choir and statewide competitions. I participated in talent shows and concerts. I love music in general," she said.