Employee Spotlight
Maria Parra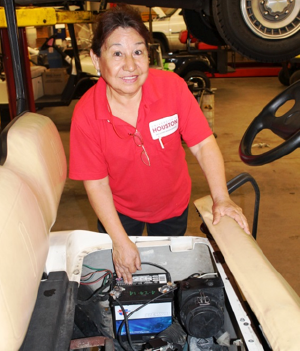 If Maria Parra could have predicted 16 years ago where she'd be working today, the Auto & Fleet Department at the University of Houston would never have crossed her mind.
At the time, she was almost finished raising her five children and worked at a hotel in Houston performing custodial services. She knew nothing about vehicle maintenance and had no interest in it. Sitting down and crocheting piqued her interest much more than looking under the hood of a car.
But then her son-in-law, who at the time worked at UH, suggested she apply for a job here. She did and was hired to be a part of the custodial services team. For much of the next 15 years, she was assigned to Moody Towers, one of the residential communities on campus.
Eight months ago, however, she accepted a reassignment to her current role as a trades assistant in Facilities Management, where she works in the auto shop.
Now, her job duties include such things as checking the batteries for the fleet of carts used by Plant Operations, running errands and picking up parts needed for any vehicles brought into the shop for repairs. It's a lot different than what she had been doing, and she admits to being just a little afraid at first, especially when learning to check the batteries on the carts.
"I didn't know very much at the beginning, and the occasional sparks from the batteries was a little frightening," she said.
The initial nervousness she experienced has since disappeared as she's become more comfortable in the role. She also likes that she does different things each day, all depending on what they need her to do.
"Maria has adjusted very well to this position," said Fleet Manager Neal Smith. "We're very happy to have her and consider her to be an integral part of the team."
Parra, who was born and raised in Mexico, first moved to Houston 35 years ago. She and her husband have 12 grandchildren and live in the Hobby Airport area.
When she first started working in the auto shop, she noticed something really quick: She was the only woman working there.
"But everybody has treated me very well and are very respectful," she said.