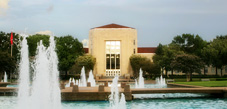 Board of Regents approves 2013-2014 parking permit rates

The University of Houston System Board of Regents has approved the parking permit prices for the 2013-2014 academic year. Click here to see a complete listing of the rates.

Those who have not yet purchased a permit can do so now by logging onto AccessUH, clicking on the Parking icon and following the instructions.

Permits will be mailed before the start of classes in August to the address provided during the registration process.

Contact Parking and Transportation Services at 832-842-1097 or parking@uh.edu with any questions, or visit www.uh.edu/parking.