New sensor reduces water usage in reflection pond and saves money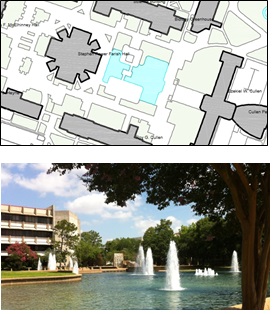 Facilities Management team members Paul Brokhin, Jose Casas, Thanh Huynh and Ron Gonyea recently conducted a four-month study of the water usage and consumption rate at the Cullen Plaza reflecting pond in support of ongoing university sustainability initiatives.

The study showed that the reflecting pond was using more than a million gallons of water a month. This is an excessive amount and takes into consideration the reflecting pond's size, volume, evaporation rate and other factors.

The team identified that the cause for the high water consumption rate was a faulty float assembly used for automatically maintaining the water level. The faulty sensor caused the water fill valve to remain open, resulting in an overflow of water to the pond.

To solve the problem, the team chose and procured a new low-cost, non-contact level sensor, designed a new mounting bracket, and installed and wired the new system into the fill valve.

Following the installation of the new sensor, there has been a major reduction in water usage. Prior to the sensor replacement, an average of 52,000 gallons per day was being used. Since the installation of the new sensor, the amount has dropped 63 percent to 19,000 gallons.

For a total investment of less than $1,000 for the new sensor and installation, the team anticipates that the university will save $300 per day in water and sewer charges - an annual savings of $109,500. Water treatment chemicals will proportionately be reduced as well.

For more information about the Facilities Management Sustainability initiatives, contact Assistant Director and Sustainability Team Lead Michael Burriello at mlburrie@central.uh.edu or 713-743-4562.