Coreanos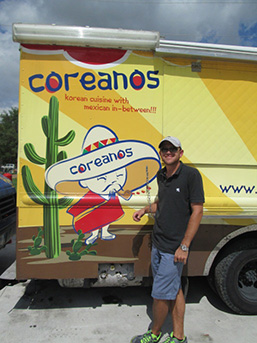 The integration of the burrito into American cuisine began in 1934 in Los Angeles when a local restaurant added the item to its menu.
Today, burritos, tacos and more are served on the University of Houston campus from the Coreanos food truck, but with a greater diversity of flavors than those original burritos.
Coreanos Houston opened in October 2010 and has been serving the UH campus since January 2012.
"Students are great," said Tom Morris, owner of Coreanos Houston. "They love the whole food truck scene and the variety of the food trucks."
Morris said interacting with students has been an engaging experience. Students have also made an impact on the truck's menu, prompting Morris to begin offering halal chicken.
"I noticed that a lot of customers would bring their friends, but their friends would not eat at the truck because we did not serve halal meat," he said. "So I decided to start selling halal chicken to meet the demand."
Halal meat is a meat follows Islamic dietary guidelines and is kept separated from the other meats on the truck.
Edmar Ordonez, a senior civil engineering major, said his favorite menu item from Coreanos is the Three Wise Fries, which are topped with beef short ribs, chicken and pork belly.
"I really like the food trucks because I am able to experience different kinds of foods every day," he said.
Another fan favorite is the OG burrito, which offers a fusion of Mexican and Korean flair with french fries, kimchi, el scorcho sauce and braised pork.
"We have made quite a few loyal fans out of it, so this has been a great experience for us," said Morris.
Coreanos is showcased in this video.