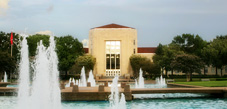 EMPLOYEE SPOTLIGHT: NEW ASSOCIATE DIRECTORS FOR RESIDENTIAL LIFE AND HOUSING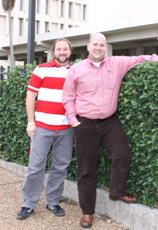 A dynamic duo has joined the housing team to help lead the charge in becoming a Tier One residential campus. Kenny Mauk and Dean Kennedy have a history of success in the field of Residential Life and Housing and have brought their expertise to the University of Houston.

The duo started their positions on the very same day back in October 2011, Mauk as the Associate Director for Operations and Outreach and Kennedy as Associate Director of Residential Life.

For Residential Life, Kennedy will be responsible for the students as they are living on campus; specifically by overseeing programming, conduct, community development, and the co-curricular environment. He will also oversee departmental assessment initiatives and support communication between Residential Life & Housing and Facilities Management & Maintenance.

Mauk will be responsible for coordinating the work of the central housing office, which includes the application process and room assignments. He is also working on summer conferences as well as the housing marketing efforts. Mauk said even on his first day, he was immediately pleased with his decision to come to UH. The day started for both by meeting Don Yackley, Executive Director for RLH, for breakfast.

�Immediately I felt a sense of teamwork and camaraderie,� Mauk said. �I was really affirmed in my decision and felt very welcomed by everybody.�

Mauk, originally from Kentucky, began his career in housing as a resident assistant at Morehead State University in 1990. He then transferred to Western Kentucky University and became a hall director where he decided he wanted his career to be in Student Affairs. He received his Bachelor of Arts in 1994 and then moved to Lubbock to work on his Master of Public Administration at Texas Tech University while working as Residence Life Director. After Lubbock, he headed back to Kentucky where he was the Assistant Director for Service at University of Louisville followed by Director of Housing and Residence Life at Sullivan University. He then joined the team at Century Campus Housing Management in Houston from May 2000 to July 2003 where he managed university properties across the nation including George Mason University, Texas A&M University, and Texas Southern University.

Mauk came to UH from Texas Woman�s University in Denton, Texas where he served as the Senior Assistant Director after his position at Century Campus Housing Management. While serving at Texas Woman�s, Mauk supervised and coordinated a 50 percent growth in campus housing. Mauk said he enjoyed the city and mission of Texas Woman�s University but had begun to feel like he wasn�t as challenged as he wanted to be. He began a selective job search and discovered the position opening at UH and decided to apply. He got the call from UH and came down to Houston for an interview.

�I really felt that the folks I visited with while I was here had the same approach to Student Affairs and working with students that I do. Everybody was eager to help us grow and I was really excited about that, so when I was offered the job, it was an easy decision for me,� Mauk said.

Kennedy was excited to apply for this position opening at UH given the opportunities available to initiate many positive changes and knowing the leadership of the department, Yackley, whom he worked with previously. Kennedy, originally from New Hampshire, has also had a successful career in residential life and housing that has led him around the nation. He started as a resident assistant for three years while pursuing his bachelor�s degree at the University of New Hampshire where he initially became interested in a career in housing and residential life. As an RA, Kennedy said he was responsible for a floor of students, becoming somewhat of a big brother to them and helped them adjust to college life.

�The ability to watch them grow and develop over the course of the year is amazing and really rewarding. To be able to do that on a professional level is powerful because you are able to see that growth and development over time,� Kennedy said.

Kennedy then served as a hall director at Franklin Pierce College in Rindge, New Hampshire for a year and then decided to enter graduate school at the University of Northern Colorado. There he received his Master of Arts in Education Leadership and Policy Studies while also working as a graduate residence hall director and summer graduate assistant. Kennedy then moved to California July 1999 to become Residence Director at the University of the Pacific followed by serving as a Coordinator for Residential Education � Crown College at the University of California, Santa Cruz.

In August 2002, Kennedy decided to go back to the University of Northern Colorado to pursue his doctorate and worked as a graduate assistant. He then moved to North Carolina in June 2004 to serve as Assistant Director for West Campus and then as Assistant Director for Conference Services and Residential Leadership. Kennedy finally landed at California State University-Monterey Bay in October 2006 where he met and worked with Yackley to revamp the housing system and increase retention for residents living on campus from below 50 percent to 79 percent after only three years. They also brought retention for student staff from under 50 percent to 90 percent. He said he hopes they can achieve similar success at UH.

�The opportunity to make a huge difference at an institution where administrators, faculty, staff and students all wanted to make a difference made applying here really exciting because not only do we have the potential to change and be more student and learning focused, but we have the capacity for it,� Kennedy said.

Currently Kennedy is working with other Residential Life & Housing staff members on several assessment projects as they strive to build a solid base of department values, structures and programs. For example, he has been working with student staff, campus partners and professional staff to rewrite the RLH mission. He is looking at the department�s position descriptions and programming standards, and analyzing the learning outcomes for their constituent groups. They also have plans to expand the Faculty-in-Residence program and redevelop the conduct process, working with the Dean of Students office to streamline the process for students.

Kennedy is also in the process of working with his staff to develop theme and living/learning communities that will extend to sophomores, juniors and seniors where residents in the same living space will each take 1 to 2 classes together and share a common academic or non-academic interest. These residents would also take part in a mentoring program to first year residents who would maintain similar academic/non-academic interests. Kennedy hopes building these structures in the department will help residents living on campus and the RLH staff be successful in their endeavors as the residential population grows on campus.

�If we can put a structure in place to help people be successful so they can build relationships - that is what is really important to me. That�s where the position descriptions and conduct process comes in so that everyone knows that this is the system they have to operate in and be successful. That�s really what keeps me excited about working in this field,� Kennedy said.

Mauk is currently working with his staff to develop and enhance processes on the operational side of the department, such as the application process, to make sure the processes will remain reliable year after year. He said it is also important to get the department prepared for the additions of two new residence halls, Cougar Village II and the sophomore housing replacing Cougar Place. This will add 2,000 beds to the campus by 2013.

�We want to position ourselves as a residential program that is considered a Tier One residential campus and we are working hard to get ourselves there,� Mauk said.

Mauk said he is excited about the growth and happy with his decision to move back to Houston although he admits he misses being close to his family. He said he was on the road a lot the first time he was in Houston so he hadn�t really gotten to take advantage of the city. He said coming from the suburbs in Denton, he is enjoying the quieter areas of the city such as Memorial Park, the local farmers markets or taking his dog, Dutch, to a dog park near his apartment. He also has a cat named JoJo that has seven toes on each paw.

This is the first time living in Texas for Kennedy. Currently he is living on campus until his partner, Elyssia, a high school French teacher, finishes up the semester in California. The two are currently closing on a house to move into in mid January with their dogs Bambou and Aito. He confesses he has not adjusted to Houston drivers and is worried about the humid summers, but said he is pleased with the southern hospitality from Houstonians.

�I love the friendly people here. That�s something that is very refreshing,� he said.

Thankfully, Mauk and Kennedy have made the University of Houston their new home, and joined the team to lead the University of Houston to its residential goal.