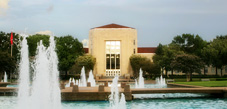 GREEN LOCATIONS ON CAMPUS ADDED TO NEW STUDENT ORIENTATION TOURS
Prospective students and visitors now learn that the University of Houston cares about going green during their first visit to campus. The New Student Orientation (NSO) tours have incorporated green areas on campus that showcase and inform potential students about our mission to create a more sustainable campus.

Starting this spring semester, Green UH has provided yard signs for the orientation tours that give quick facts about several areas on campus including 1) Lynn Eusan Park, 2) Campus Community Garden, 3) Air Quality Tower at Moody Towers, 4) Solar Panels, and 5) Center for Advanced Materials.

Tara Boyle, Director of New Student Conferences and Programs, and her staff decided the NSO tours could be more educational and interactive if the Orientation team leaders (O-Team) provided talking points and conversation starters throughout the tour.

�We started by identifying some finger tip facts; selling points which students might not consider but which greatly impact the positive experience they have by being a UH student,� Boyle said.

The team was approached by their partners at Green UH to discuss ideas for communicating information about the program and decided to add facts about sustainable areas on campus to the tours. By incorporating green areas on campus, the tours could potentially capture the interest of eco-conscious visitors and provide an extra incentive to choose the University of Houston.

�When students attend their New Student Conference they have not necessarily decided to attend UH. New Student Conferences are perhaps our most important recruiting event on campus and are our final opportunity to show students how they fit into the social, cultural and academic community at UH. By seeing pieces like the green signs along tours, students are able to identify with issues they personally care about and can see that the institution shares in those personal values,� Boyle said.

The campus tours are optional and provided multiple times throughout the day. During the tours, Leah Wolfthal, Program Coordinator for Sustainability, hopes potential students will get inspired during the tours and decide to get involved in the green mission both on and off campus.

�It is important to cue students into the growing green movement on campus and let them know others also share their concerns. Also it will let new students know how to get involved and inform them of multiple ways sustainability could play out in their research or career interests,� said Leah Wolfthal, Program Coordinator for Sustainability.

New Student Conferences for the Spring 2012 semester will resume on January 5, 6 and 9, 2012. For more information on green initiatives on campus, visit www.uh.edu/green.