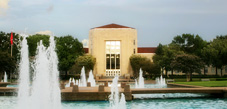 Discover all your parking options on campus

Construction activities for the new state-of-the-art football stadium, which will continue until the summer of 2014, have taken away some of the parking spaces around the area.

Despite the partial loss of the lots around the stadium, an abundance of new parking spaces created since 2010 should help students, faculty and staff. In that short two-year period, the university has created more than 5,800 new spaces. That doesn�t include the 1,500 spaces that will be added when the 1A Parking Garage opens in 2013.

Here are a few options to assist you as you formulate your parking plan for the spring semester:


Students are encouraged to use the parking at the Energy Research Park, which has an abundance of spaces available, then catch a shuttle bus to campus.
Students should consider upgrading to a garage permit: Stadium, East or Welcome Center.
Students can park in nearby lots 8A and 9C, which are located southeast of the intersection of Wheeler and Cullen.
Leek Street gravel lots 16E, 16J, 16I,16H and 18A on the west side of Cullen, just north of Elgin, can also be used.
Lot 21B, off of Calhoun, may also be used.
Faculty and staff can park in nearby lots 8A, 9C and 8B.
Faculty and staff are encouraged to consider upgrading to one of the parking garages �Stadium, East or Welcome.



Parking and Transportation also urges people to consider the Metropolitan Transit Authority of Harris County and ride-sharing programs to reduce the number of vehicles on campus.

Some parking spaces have been lost since 2010, but by next year, the university will have added 3,190 more spaces than it has lost.

For more information about your spring semester parking options or to upgrade your parking permit, visit www.uh.edu/parking.