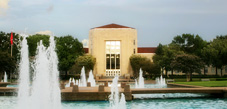 ONLINE JOB SYSTEM (OJS) UPGRADE
The Human Resources Employment team is excited to announce that the new OJS (online job system) launch date has been set for March 1, 2012. The upgrade will offer enhanced functionality and better efficiency to both internal users as well as external applicants.

Between now and February 29, colleges and divisions need to be closing positions and maintaining close communications with their employment representatives to make sure the transition goes smoothly.

On February 29, OJS will not be accessible to current users or applicants. On March 1, the new OJS site will be live.

Managers should note that job posting information and applications in the current system will not transfer to the new system. All job postings that remain when the old site is taken down will need to be reposted and applicants will have to reapply. This applies only to jobs not filled by February 29, 2012.

HR Employment Representatives Clausezette Davis and Ashley Waggoner will be on hand throughout the transition process to assist system users and address concerns.

For more information please go to the HR Employment Update Site.