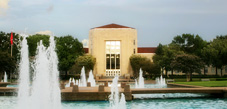 SPRING 2012 GREEN COMMUTER FAIR
METRO was back on campus on Feb. 7-8 to offer convenient service and encourage students to become green commuters by using mass transit. During the Green Commuter fair, stations were set up at the UC Satellite and PGH breezeway from 10 a.m. to 2 p.m. to sign up students for METRO Q cards. Students who sign up for a Q card receive half off fares when they ride METRO.

During the fair, students enrolled in classes were able to simply fill out a registration form and have their Q card printed on site by METRO representatives. METRO was also able to accommodate students in need of renewals. Faculty and staff also stopped by to speak with representatives from Parking and Transportation Services about joining the Commuter Club and receiving discounts on METRO fares.

Hertz On Demand was available during the fair to sign up students and faculty/staff for the on-campus car sharing program. Members of the program can rent a car for an hourly rate that includes gas and insurance. The car sharing program offers an alternative to bringing your car to campus by making it easy and affordable to use a car only when you need it.

To add money to the Q cards, students can visit the parking desk located at the Welcome Center Parking Garage. For more information on becoming a green commuter, visit www.uh.edu/greencommute.