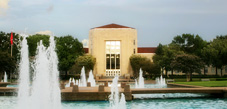 GREEN UH RECEIVES RECOGNITION AT 2011 MAYOR�S PROUD PARTNER AWARDS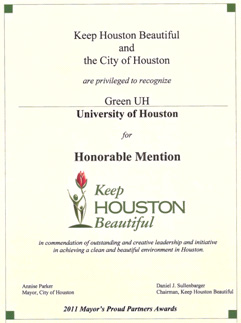 Green UH and the University of Houston got a pat on the back for our sustainability efforts receiving one of the 2011 Mayor�s Proud Partner Awards. This year, Green UH was given an Honorable Mention Award from Keep Houston Beautiful.

Keep Houston Beautiful is a non-profit organization that works to get the community involved to create a cleaner and healthier city. The organization states it is the �city�s leading organization in beautification, litter reduction and recycling education.� Each year, the organization recognizes groups and individuals across Houston that have shown great efforts in creating a better environment through the Mayor�s Proud Partner Awards. Green UH was one of the groups chosen to be commended for its accomplishments.

Green UH was selected for the award because of its commitment to creating a more sustainable campus, receiving support and forming partnerships with other departments on campus. For example, UH Parking and Transportation has encouraged green commuting by promoting discounts on METRO fares as well as a car sharing program on campus. Also, UH Dining Services has minimized food waste through their tray less program and eliminated Styrofoam in dining halls by offering reusable to-go containers. Plant Operations has provided valuable support to the green mission with its recycling pick-ups.

Also, Green UH has had several outside partnerships that have supported the campus mission. Recently, Green Mountain Energy Company donated funds for the purchase and installation of the university�s first solar array. Also, the university partnered with Urban Harvest to build and maintain the campus community garden and also provides classroom space to the organization for gardening classes.

The awards ceremony took place on October 31, 2011 at the Hilton Post Oak Hotel. The McReynolds Solar Shade Tree project designed and built by the UH Graduate Design Build Studio in partnership with the SPARK School Park Program was also recognized, receiving a 2011 Proud Partner Award.

�The University of Houston is constantly looking for innovative ways to make the campus greener and to encourage green behavior. We are very proud of the milestones we�ve reached on campus so being recognized for our efforts is a wonderful thing for UH,� said Maria Honey, Assistant Director of Marketing and Communications for University Services and Residential Life and Housing.

For more information about green efforts on campus or to get involved, visit www.uh.edu/green.