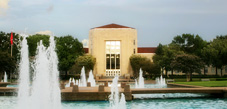 NEW EXECUTIVE SOUS CHEF BRINGS DIVERSE EXPERIENCE TO UHDS TEAM
UH Dining Services is proud to welcome Chris Drymala to the team as the new Executive Sous Chef for the main campus. Drymala most recently held the title of Executive Chef and General Manager at Otto�s Deluxe Grille in Katy, Texas.

After graduating with an associate degree in applied science from the Texas Culinary Academy, Drymala spent 21 years working extensively in fine dining and has explored many international styles including Japanese, Brazilian, Mexican, Italian and French cuisines. He has served celebrities such as Julia Roberts, Antonio Banderas and Sandra Bullock and has also served Governor and Mrs. George W. Bush at the Governor�s Mansion.

At UHDS, Drymala will work closely with both of our executive chefs to support catering and residential operations. We are extremely excited to have him on our team and ask the UH community to give him a warm welcome to campus.

For more information about UH Dining Services visit www.uh.edu/dining.