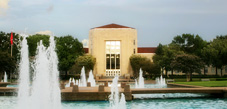 UH DINING SERVICES WORKS TO MINIMIZE FOOD WASTE ON CAMPUS
Did you know that up to 40 percent of all food waste in the United States is deemed avoidable waste? This means that almost half of the food waste in the country could be deterred, leaving a great impact on our landfills, our food costs and the environment.

The University of Houston is a strong supporter of sustainability and as part of that mission, UH Dining Services has implemented numerous sustainable programs over the last few years. From re-useable to-go containers in the dining halls to large-scale paper and cardboard recycling in its locations, UH Dining Services is always looking for new ways to help the University of Houston be greener.

That�s why it�s only fitting that the University of Houston was chosen as the pilot campus for ARAMARK�s new waste minimization program. ARAMARK, the food-service provider on the UH campus, developed the program with the goal of reducing food waste in its locations by up to 40 percent. The program begins with awareness, aiming to bring the issue of food waste into the forethought of front line managers and employees.

So, for two weeks, UH Dining Services� employees collected all food waste in separate plastic containers. They then weighed the food waste and went through the bins with their managers who pointed out areas for improvement.

�It can be as simple as cutting too much off of the tip of a carrot,� said Executive Chef Brent Gorman, the project leader at UH. �We had a demonstration that showed by just emptying a can of pizza sauce and not scraping it out with a spatula you left 6 oz. of product inside the can. That�s enough for a whole pizza. If you take that kind of waste and multiply it by all of ARAMARK�s accounts, we could have a huge impact.�

UH Dining Services participated in the pilot program until Nov. 17, at which time ARAMARK executives visited the campus to review the results. The program will then be adapted based on those results and eventually rolled out to campuses and businesses nationwide.

For more information about UH Dining Services visit www.uh.edu/dining.