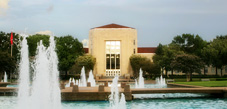 Tuan Hoang
Not everyone can say they were blessed by the pope this summer, but Tuan Hoang can.

Hoang, a junior education major, traveled to Brazil with 45 others from his church for a chance to see Pope Francis, who visited the country in late July. Millions of Catholics clogged the streets just for a chance catch a glimpse of the pope. Hoang and his church group got more than that. Much more.

"We got really close to him, probably within 20 feet. He stopped and blessed us," he said.

For Hoang, who is a student worker in Parking and Transportation Services here at the University of Houston, the quick encounter has an ever deeper meaning. When he graduates in two years with a degree in education, he plans to enter a seminary and study to become a priest.

Until that time, he continues to juggle his studies with his student worker position, which he has held for a year.

"Basically, I am a helper for all the full-time employees," he said. "Whatever they need me to do, they will ask and I will help them out. Things like uploading paperwork, stuffing permits, scanning documents."

Hoang was born in Vietnam, but moved to the United States with his family when he was only 6 years old. He didn't know any English when he arrived, but picked it up rather quickly, thanks in part to an appetite for reading.

He graduated from Eisenhower High School in the Aldine Independent School District and decided to pursue his studies at UH. After seminary school, he eventually sees himself becoming a teacher on the junior high level.

"My main goal is to teach the eighth grade, because that's the grade when students get ready to climb up to the big level, which is high school. A lot of them, if they are not educated right, they are going to have a difficult time," Hoang said.

In his extra time, he volunteers at Our Lady of Lavang Catholic Church, a congregation for the Vietnamese community on the northwest side of Houston. He is the president of the church's youth group.

He also likes to watch and play sports.

"All the sports that you can name, I like to play it a little," he said. "But of all sports, I like football the most."