Pilot sign installed as part of new campus wayfinding project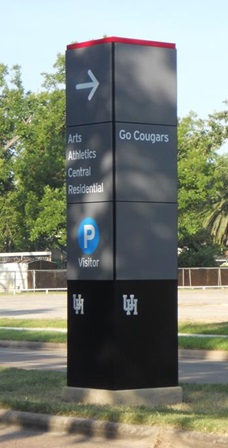 The first in a series of new wayfinding signs that will be rolled out across campus over the next several years has been installed.
The nearly 13-foot-tall traffic directional sign, installed by Facilities Management staff, stands in the median of Cullen Boulevard near North MacGregor Way. It is designed by designLAB of the University of Houston's Gerald D. Hines College of Architecture and is part of a larger project spearheaded by designLAB and the Campus Facilities Planning Committee to make it easier to navigate the campus. That project includes dividing the campus into seven color-coded districts. The districts and their colors are being incorporated in the new signs.
Over the past year, members of the Campus Facilities Planning Committee began developing a plan to improve how the community navigates the campus.
A plan was established under the leadership of School of Architecture Dean Patricia Oliver that included a study of the campus environment, seeking input from the campus community, and resulting in the development of a phased, long-term, multi-year approach to replacing campus signs of all types and sizes.
The location on Cullen for the pilot sign was chosen because the sign it replaced was no longer there, having been damaged by a vehicle. Feedback on the newly installed sign can be submitted via email to the Office of Administration. The Arts District has been selected to receive the first of the new signs. As new buildings are completed on campus, they too will have the new signs installed.
The new sign on Cullen consists of a sturdy metal framework covered with interchangeable message panels. It has been designed to withstand 110 mph windloads and local weather conditions. The message panel sections are designed so that they may be replaced easily as information changes and the paint that is used will last 50 years and will not fade - both creating a current project and long-term cost savings and flexibility.
The University of Houston understands that clear signage on a university campus is important for a number of reasons: to facilitate prompt and accurate emergency life safety responses, to help incoming new students and their families become familiar with the campus environment, to establish a more visitor-friendly campus, and in general to improve the overall image and character of the campus.
The University of Houston wayfinding project will continue over several years and will include signage for not only campus entrances but also buildings and other locations. And as each phase is completed, another section of campus will have been renewed with new and better campus wayfinding signs.
If you have questions regarding the wayfinding signage pilot project, please contact Steve Wright, senior project manager, at SWright@central.uh.edu. For information regarding the long-term phased project, contact Susan Vail, senior project manager, at svail@central.uh.edu.