What's New
Education
Work Experience
Contact Information
Interests
Publications
Grants
Active Projects

Interests
Teaching Experience
Schedule



Services
Memberships
Awards


Lingguang Song © 2006

University of Houston

 What's New? 
● A New Book on EVM (April 2010)
A new book on Earned Value Management authored by Dr. Song has recently been published by Project Management Insitute (PMI). The book is titled "Earned Value Management: A Global and Cross-industry Perspective on Current EVM Practice", ISBN: 1935589067.
This book discusses the most current EVM practice from a global and cross-industry perspective. Earned Value management (EVM) provides an integrated management control methodology that has been adopted by U.S. federal agencies and the private industry as the best practice for project control. The ever-increasing level of globalization and cross-industry collaboration generates a great need for a clear understanding of the current EVM practice across geographic and industry boundaries. EVM practice becomes even more important amid the current economic turbulence and the implementation of economic stimulus plans, where transparency, accountability, and efficiency of project performance are paramount. To understand the current EVM practice, survey data were collection from more than 600 industry practitioners from 61 countries, 36 U.S. states, and 17 different industry sectors. This book provides a review and a comparison of EVM practices in government agencies and the private industry, EVM practice standards, service market, as well as contributions of EVM and its usage improvement. Check out the book at Amazon.
About PMI: The Project Management Institute (PMI) is the leading global association for the project management profession. Since its founding in 1969, PMI has been at the forefront of setting standards, conducting research, and providing education opportunities to advance the project management professions. PMI has over 420,000 members in 250 local chapters in over 70 countries.
● CII Academic Committee (March 2010)
Dr. Song joined Construction Industry Institute (CII) Academic Committee in April 2010. The Academic Committee (AC) is the primary forum for the academic community within CII to provide its wisdom and expertise to CII.
About CII: CII is a consortium of leading owners, engineering and construction contractors, and suppliers. CII, through its research, implementation, education, and other initiatives, is a learning organization with a wealth of knowledge and information.
● ASCE Best Paper Award (October 2009)
Drs. Song, Mohamed, and AbouRizk received the ASCE Journal of Management in Engineering Best Peer Reviewed Paper Award for their paper "Early Contractor Involvement in Design and Its Impact on Construction Schedule Performance," which appeared in the January 2009 issue of the journal. The award was presented during ASCE Annual Conference in Kansas City on Oct. 29, 2009.
The importance of integrating construction knowledge into the design process has long been recognized by the construction
industry. This paper studies an innovative project delivery strategy, Early Contractor Involvement (ECI), which allows constructors to be involved in early planning and design stages. The paper provides a comprehensive literature review and it defines ECI in relation to other popular project management concepts that share the same emphasis on the use of construction knowledge during the design process. In addtion, the research measures quantitatively the impact of ECI on construction schedule performance using a novel approach that combines empirical case study and theoretical simulation analysis.
According to ASCE, the Best Peer Reviewed Paper Award recognizes an outstanding paper with significant contribution to the engineering Management Profession, clarity and expression of the presentation and uniqueness of approach.
● Student Research Award (April 2009)
Congratulations to Mr. Yash Tiwari for wining the Second Place in the 2009 COT Graduate Research Day competition. Yash is a CM gradute student working with Dr. Song. His research is titled "Project controls through real-time simulation & global positioning system."
His research studied the integration of real-time data collection and simulation techniques for the planning and control of asphalt hauling and paving operations. The study received support from the construction industry. HCSS Inc. and Simio LLC provided the required hardware and software, and Gilchrist Construction Co. provided access to their construction sites for data collection.
About COT Research Day Competition: This annual student research competition at the College of Technology recognizes student research that significantly adds to the body of academic knowledge. Participants are graduate students from all majors in the College of Technology. The top 3 research projects are recognized based on an oral presentation and a poster display.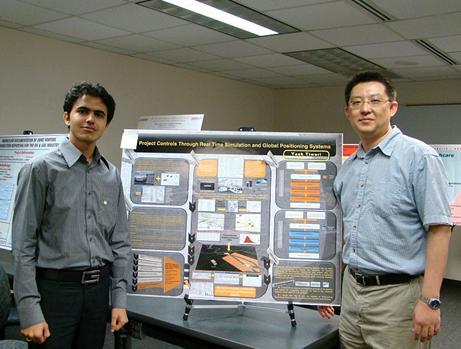 Contact Information
Lingguang Song, Ph.D
Associate Professor
Construction Management
T2 375
University of Houston
Houston TX 77204
Tel: 713-743-4377
Fax: 713-743-4032
Email: lsong5@uh.edu