Physical Geology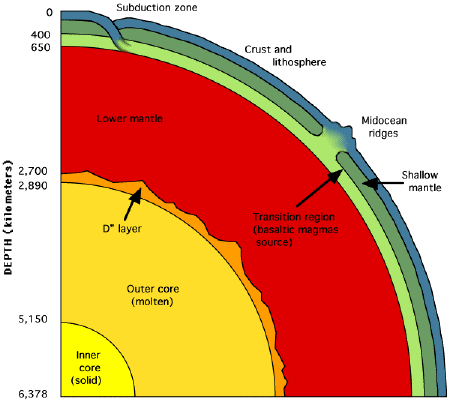 Cross Section of the Earth
You may wish to print a copy of the lecture outline (minus the illustrations) and you have two options:
Chapter Objectives
After reading Chapter Seventeen, you should be able to:
Review the types of seismic waves, and compare and contrast the properties of these waves.
Explain how geologists have used seismic waves to explore Earth's interior.
Portray a cross-section of the Earth.
Compare and contrast the core, mantle, and crust and the lithosphere and the asthenosphere
Introduction
In the reference given by the chapter title you will learn how measurements are being made which lead to refinement of the theory of plate tectonics.
Internet Resources
Virtual Field Trip
Wegener hypothesized that 200 million years ago India was south of the equator. Many geologists have studied the interaction between India and the Eurasian continent - the Himayala.

TIBET: A VIRTUAL FIELD TRIP -- "Inaccessible Tibet. These words conjure images of remote mountains inhabited by yeti and adepts who sit naked in the snow, warmed by elevated body temperatures. Tibet has remained a very difficult place to visit and is more fantastic than imagined. It is a land of immense contrasts: snowy peaks and sandy deserts, barren plateaus and forested mountains, empty expanses and crowded cities, and a deeply religious people ruled by an avowedly atheistic government. "

Learning about geology from a computer screen is only half as fun as enjoying it in the field!
Self-Quiz
_________________________________________________________________________________________________
| jbutler@uh.edu |E-mail the ClassListserv|Read the ClassListserv|
|Textbook Home Page |Glossary of Geologic Terms|Search These Pages|
|Other Courses|Resources|Grade Book|
_________________________________________________________________________________________________
Copyright by John C. Butler, July 29, 1995