Petrography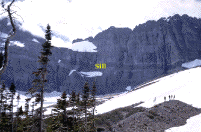 Exercise 2: Mineral Properties
Although there are more than 3,900 recognized minerals, a relatively small number account for a large volume of the Earth's crust and mantle. For now, we will not be concerned with the core except to note that there is an outer liquid core and an inner solid core. The core consists of an Iron- and Nickel-rich alloy which is about 85% Iron and 15% Nickel.

The "simplicity" of the mineralogy of the crust and mantle reflects the fact that eight chemical elements -- oxygen, silicon, aluminum, iron, calcium, magnesium, sodium and potassium -- account for about 99% of the weight of the crust and of the mantle.

The crust is enriched in oxygen, silicon, alumnium, potassium and sodium. The mantle is enriched in iron, calciuim and magnesium. The oceanic crust has a composition intermediate between the continental crust and the mantle.

The most common minerals in the crust are silicates -- combinations of oxygen, silicon, and (usually) other positively charged ions.

The Mineral Gallery offers a full text search ability which you will use to complete this exercise.

Critical Concepts:

Solid Solutions: Most minerals do not have a fixed chemical composition (quartz is a notable exception). Plagioclase feldspars are a mineral group in which composition varies between two extremes (albite is the sodium-rich end member and anorthite is the calcium-rich end member). Plagioclase is concentrated in igneous rocks from the oceanic crust. Alkali feldspars are members of a solid solution series between a potassium-rich end and a sodium-rich end and are concentrated in the continental crust. About 65% of the weight of the crust (both continenal and oceanic) is contributed by feldspar and about 15% by quartz.

Olivine and pyroxene are both solid solution series and are common silicate minerals concentrated in the mantle.

A few minerals form primarily near the surface and are concentrated in sedimentary rocks -- halite (salt), calcite (calcium carbonate) and dolomite (calcium, magnesium carbonates).

Polymorphism: Minerals which have the same composition but different structures are polymorphs. Diamond and graphite, for example, both are made up of 100% carbon and calcite and aragonite are both made up of calcium carbonate -- CaCO3
Questions
Physical Properties at the Mineral Galleries contains good discussions of the physical properties of minerals. Read the section on Specific Gravity.
Define, in your own words, specific gravity. How does this property relate to density?

Search Mineral Galleries for the specific gravities of :

quartz _______

olivine (use the Magnesium-rich end member ___________ and the Iron-rich end member ________)

pyroxene (use augite) _________

plagioclase [(use albite ________ and use anorthite _______)

alkali feldspar (use microcline) ___________
Prepare a table with:

Mineral Name
Specific Gravity
Location

For location. tell where the mineral or mineral group is concentrated : (1)continental crust, (2) oceanic crust, or (3) mantle. In general, high pressures favor higher densities and high temperatures favor lower densities. Within the outer part of the Earth the pressure effect tends to dominate.

From your table, generalize about the relationship between specific gravity and the concentration of these common minerals.

Something Extra
The Mineralogy Database is another resource for mineralogy.
Return to the Table of Contents