An Excursion To The Yunnan Province, Republic of China
The Virtual Geosciences Professor and Friends In Yunnan
Introduction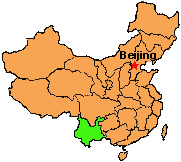 In June of 1999 my wife Susan and I had an opportunity to visit the Yunnan Province (green area) in the Republic of China. The flight from Houston, Texas to Hong Kong took about 20 hours including a layover of about 2 hours in Narita, Japan. The hotel at the new Hong Kong airport was a welcomed sight and it proved to be the last place to get large quantities of ice for the next 8 days.
The following day we boarded a flight to Kunming, capital of the Yunnan Province, for a couple of days of a conference (Susan) and a tour of the Stone Forest.



"Yunnan, on the Yunnan-Guizhou Plateau in the southwest of China, is a land of natural beauty and mystery, which covers an area of 394,000 square kilometers with a population of 40,000,000. Yunnan represents the last great region to join the Chinese empire.

Even today many Chinese think of it as a " frontier province " although it was Kublai and his successor, 200 years before Christopher Columbus, whose forces entered these mountainous lands that lie just below the Tibetan plateau and abut Vietnam, Laos and Burma. [from the Yunnan Tourist Guide]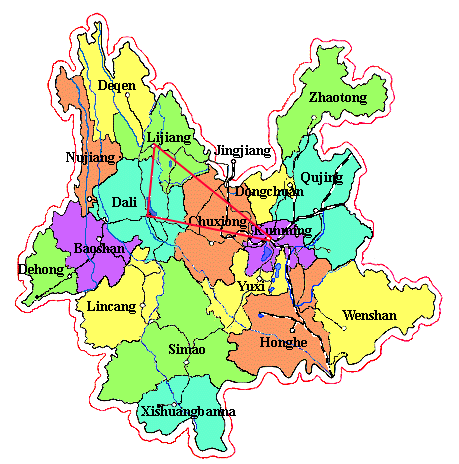 In few provinces of China is so great a diversity of natural conditions and culture to be found as in Yunnan. Yunnan has an unique array of fascinating ecotourist resources, including year-round snow-capped mountains and glaciers, lakes and hot springs, highland landscape, primitive forests, and tropical rain forests where elephants and monkeys roam . Forests, totaling nearly 10 million hectares, or eight percent of the nation's total, cover 24.9 percent of the land of Yunnan, which is known as a kingdom of plants and animals. More than half of China's 30,000 kinds of high-grade plants can be found in Yunnan, which is also home to 3,000-plus kinds of rare animals (55 percent of the national total), 31 kinds of birds (64 percent of the national total), and 130 kinds of reptiles (42 percent of the national total)."

A "clickable tourist map of Yunnan" is a valuable resource for planning your own trip.

An International group representing Houston, Texas, Italy and Beijing set forth (by China Air) a day later for Lijiang. We spent two days in Lijiang and on the third day drove south to Dali. Several days later we returned (by China Air) to Kunming.

We have divided our trip into three parts:
Since July 11, 1999